Seventh Son Review: Jeff Bridges Battles Wicked Witches!
by Joel D Amos at . Updated at . Comments
Usually when a film takes years to hit screens, it is a sign of trouble. But, that is not necessarily the case with Seventh Son. Often delayed, and thus much maligned, the Jeff Bridges, Julianne Moore and Ben Barnes starring medieval epic is actually somewhat entertaining.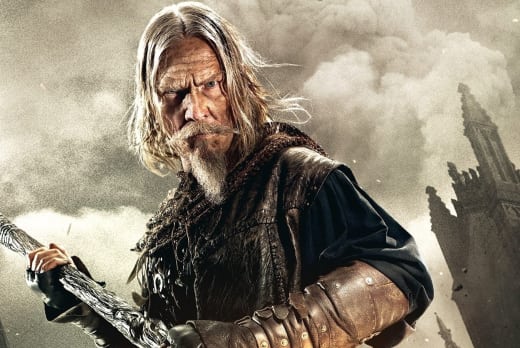 Bridges portrays Master Gregory. He is a Spook, a man with innate gifts to fight the supernatural. He hasn't had the best of luck with apprentices as his last several perished (including what amounts to a cameo from Kit Harrington).
As the film commences, we learn that he imprisoned -- deep in a mountaintop hole -- the most evil of witches, Mother Malkin (Moore).
After a visually stunning capture of the passage of time -- she escapes in dragon form no less. The world, and Master Gregory, will pay for her imprisonment and to say she's pissed is the hugest understatement ever.
Meanwhile, Bridges needs an apprentice (as so eloquently teased in that Seventh Son Super Bowl trailer), and that finds him landing on the shores of the home of Barnes' Tom Ward. He is the seventh son of a seventh son and that makes his appointment a destiny that he cannot fight, even if he would rather stay home and feed pigs. We learn there is something else that makes him special, but you won't hear that from us!
The two embark on a journey to find and kill Mother Malkin and her witchy charges.
Director Sergey Bodrov has a firm command of the genre and we have to admit that the film truly takes us away to another time. Not once during his movie did we think about the modern issues that confound us, and that is saying something for sure. The visuals are astounding and crafty, but too often they overshadow the dramatic potential of his Oscar caliber leads. Then again, they both do their own parts in dragging Seventh Son down a notch.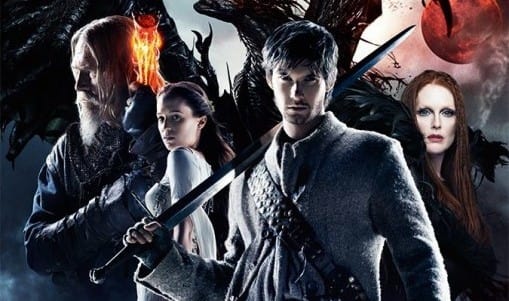 Bridges won an Oscar merely a few years ago for Crazy Heart and then came back with the incredible True Grit. But, with his performance in The Giver and now in Seventh Son, we're kind of wondering about his choice in characterization. Specifically, the vocal presentation of his character. That accent and his delivery in Seventh Son are downright distracting. This pains us to report, as Bridges is one of our favorite actors (his The Big Lebowski quotes are our fave, which also saw him with Moore!).
Moore, well, she seems to just be mailing it in. She could have gone over the top and overtly showy. But instead, she chooses a more leveled approach to her character. Part of the fault of why her performance doesn't work may lie in Bodrov's use of amplified audio every time she tries to get her menacing point across.
The savior here in the acting and storytelling department is Barnes. The former The Chronicles of Narnia star has a ball tackling a strong and full character arc that goes from simple farm boy to all-powerful extoller of justice.
Our Seventh Son review feels that the film is a fun ride, albeit flawed, and not at all worthy of the stigma that comes with a movie that took years to arrive on screens.