Needless to say, this Star Wars: The Force Awakens story contains a major spoiler. If you don't want to hear it, then just watch the Star Wars: The Force Awakens teaser trailer and live on in don't-need-to-know bliss.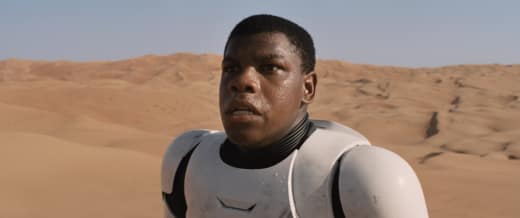 But if you want to know how Star Wars: The Force Awakens will begin, then read on, good people, who love a galaxy far, far away.
According to MakingStarWars.net, who has had a pretty good track record with this stuff, how the J.J. Abrams movie begins will be suspenseful and if it is indeed true -- which we think it is -- then we think that is how you start a movie that is truly 30 years in the making.
Cue the scene:
A lightsaber will twirl through the air before firmly landing on the ground. The area is being described as having a "savannah-like environment" and it is daytime. A farmer named Naka finds it, turns it on and sparks a fire! He races away from the building inferno, only to return to get the mystery weapon.
Naka takes his new find to a character named The Vicar, who we think is played by Max von Sydow. Instead of secrecy, The Vicar contacts Poe Dameron (Oscar Isaacs), a rebel fighter pilot. Only thing, the Empire is on his tail! Storm Troopers are invading and Poe fights them off, while hiding the lightsaber inside a droid, BB-8.
One of those Storm Troopers, Finn (John Boyega), witnesses his friend perish in battle and then proceeds to let a slew of villages go free. This insubordination will get him in trouble with Kylo Ren, the character famously sporting that tri-light saber in those Star Wars: The Force Awakens photos.
Finn and the newly captured Poe meet in a Star Destroyer's brig, where they conceive of a plan to work together and escape the ship, steal a TIE fighter and retrieve that mysterious lightsaber (it's Luke's, isn't it?!).
What do you think? Let us know in the comments below!