Taken 3 DVD Announced: Get More Taken With Liam Neeson!
by Joel D Amos at . Updated at . Comments
Taken 3, the box office winner from earlier this year, is set to make its debut on home video. Look for Liam Neeson's latest kick-ass adventure as Bryan Mills when Taken 3 arrives on DVD and Blu-Ray on April 21 and digital HD on April 2.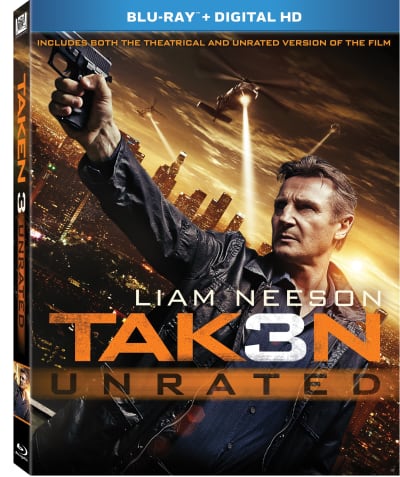 Watch Taken online and it's easy to see why the film became such a massive hit. Seeing Neeson and his particular set of skills has enthralled audiences and from the response to the third installment of the series that comes from the mind of Luc Besson, it might not be the last.
Taken 3 finds Mills being framed for the murder of his ex-wife. Does it have anything to do with his espionage past? Or is this a mystery that could be a stand-alone story?
Discover why we adore Neeson in action when Taken 3 comes home.
So, what can we expect in terms of bonus features from the third Taken movie?
Taken 3 Special Features:
The Unrated Cut (Blu-ray Only)
Deleted Scene – Flashback Malankov
Sam's Bunker A.K.A. The Rabbit Hole
Taken to L.A.
A Taken Legacy
Gallery
Check out our favorite Taken 3 quotes!