The Best of Me DVD Review: Valentine's Day Comes Early
by Joel D Amos at . Updated at . Comments
If it seems like there has been a Nicholas Sparks page to screen effort almost every year since we got those The Notebook quotes, you'd be right. But when The Notebook rocks the world and becomes part of the pop culture fabric of our society, you can't blame movie studios for trying to capture lightning once again.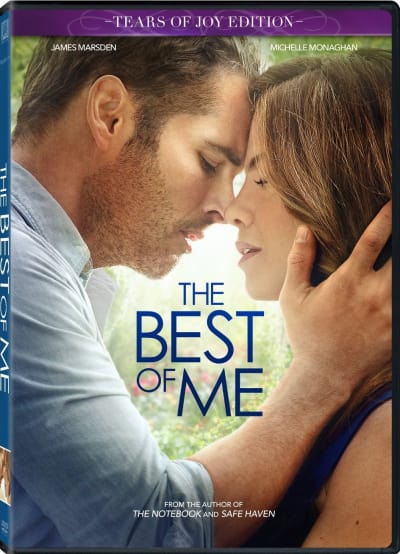 As we stated in our theatrical The Best of Me review, the James Marsden and Michelle Monaghan starring romance comes as close as any other. Now that The Best of Me is out on DVD, Blu-Ray and digital download, you can enjoy it at home… just in time for Valentine's Day!
The Sparks book was a number one New York Times bestseller and it's easy to see why. The Best of Me's story of young love getting a second chance after two decades could not be more resonant if it tried. And as crafted by the romance author king, he has also given his fans the most wildly heartbreaking tale of two star-crossed lovers since, well… The Notebook!
Luke Bracey and Liana Liberato are Dawson and Amanda. They are high school sweethearts who seem to be on the path to be the rarest of lifelong loves who begin their love life so young. But when tragedy hits, coupled with their familial differences, it drives a wedge between them that they believe makes love irretrievable.
Our story intertwines the past with the present with Marsden and Monaghan portraying the modern day versions of the young lovers. We see how their beginnings shaped their present with Bracey and Liberato matching Marsden and Monaghan note for note. It is an impressive set of casting and not an easy task to achieve.
The lush scenery is exquisite and also adds to the element of romance that makes this the second best Sparks page-to-screen effort. What else works with this The Best of Me Blu-Ray and DVD release? The bonus features allow the viewer to alter the cinematic experience.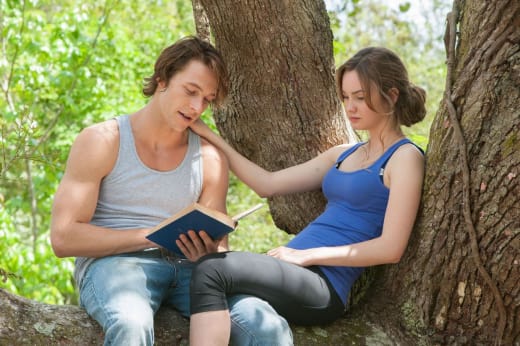 We particularly enjoyed how Fox employed the Tears of Joy edition of the film that features an all-new storyline to the film that will produce just that, tears of joy from the most romantic of viewers. Then, further sending the romantic factor through the roof is an Alternative Ending that further explores Amanda and Dawson's second chance at love.
What is truly fascinating as well are two sets of interviews that feature the author dishing the questions to his leads. First, Nicholas Sparks Interviews: Michelle and James gives us an incredible insight into why Sparks and his production team (he now produces his movies too!) felt that these two acting veterans were perfect to embody Amanda and Dawson as more mature individuals. Their part of the story is in many ways much more complicated in terms of the thorns of the past and how they can cause scars that could derail any second chance at love. And seeing Sparks, Monaghan and Marsden interact is simply priceless.
Then, watch Nicholas Sparks Interviews: Liana and Luke and discover why it was so important to find the right young actors to play the younger versions of Amanda and Dawson. They provide the groundwork for what Marsden and Monaghan would work from, yet they were allowed to be completely independent, as we learn in this interesting interview.
Lastly, the music video for I Did by Lady Antebellum is about as sweepingly romantic as a, well, Nicholas Sparks book! It's the perfect cherry on top of an already heart-quickening movie experience.