The Breakfast Club 30th Anniversary Blu-Ray Details: Revealed!
by Joel D Amos at . Updated at . Comments
The Breakfast Club is marking its 30th anniversary this year with a special Blu-Ray upgrade of the classic John Hughes film. Now those iconic The Breakfast Club quotes will come at you in the highest definition sound and picture possible. We immediately have put this release on our must-have home video arrivals for all of 2015!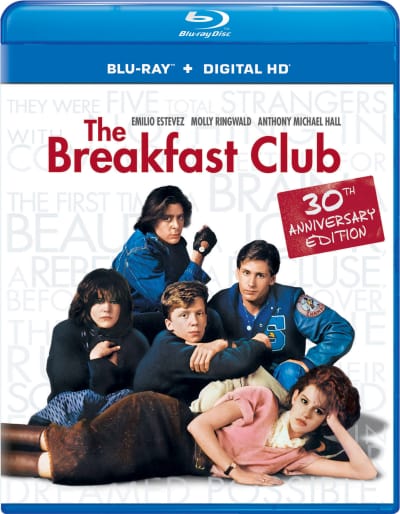 Hughes took a young cast (including Molly Ringwald, Anthony Michael Hall, Judd Nelson, Ally Sheedy and Emilio Estevez) and sent them to Saturday detention in a teen comedy that was really so much more. It was a study in the microcosm of society itself and its innate needs to define us all.
The Breakfast Club found an audience and became an instant classic. Each audience member saw something of themselves in each one of those characters, or in some type of hybrid of many of them. Many Hollywood teen films have tried to replicate Hughes' formula, but no one has come close to the power, resonance and supreme statement that his most triumphant film achieved.
Hughes' movie is getting an all-new completely restored upgrade on Blu-Ray and digital download when it arrives on March 10.
Given that we consider ourselves -- and we know many of you Movie Fanatics out there do too -- experts on the film, the fact that The Breakfast Club 30th Anniversary Edition will feature an all-new trivia track is just one element that makes this re-release awesome.
There's an army of bonus features that will achieve many things, but most of all, remind us of the brilliance of Hughes and his grasp on what it means to be a teen. And that's the thing -- all of his films have aged impeccably. Regardless of decade, The Breakfast Club still gets it.
Here's what you can expect from The Breakfast Club 30th anniversary Blu-Ray release in terms of bonus features:
Accepting the Facts: The Breakfast Club Trivia Track
Sincerely Yours: A 12-Part Documentary
Feature Commentary with Anthony Michael Hall and Judd Nelson
The Most Convenient Definitions: The Origins of The Brat Pack
Theatrical Trailer
Watch The Breakfast Club online while we wait for the upgrade. After all, this is a flick that can be seen at least 30 times, right?!