The Pirates of the Caribbean Dead Men Tell No Tales Set Photo: Johnny Depp Is Back!
by Joel D Amos at . Updated at . Comments
As we reported earlier this week, Pirates of the Caribbean: Dead Men Tell No Tales has started shooting in Queensland, Australia. Producer extraordinaire Jerry Bruckheimer posted a picture to his Twitter page showing off our first photo from the Down Under set. And if you look really closely, there's Johnny Depp as Captain Jack!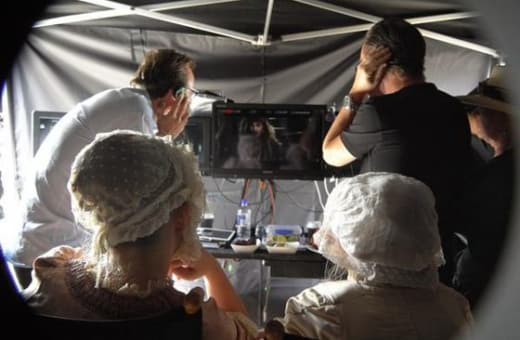 We also see directors Espen Sandberg and Jachim Ronning gazing into the monitor, busy at work on the fifth Pirates of the Caribbean movie that looks to add to the franchise that has already brought in billions.
"We just started filming a new #PiratesoftheCaribbean in Australia. Captain Jack is back," Bruckheimer said with his tweet.
The series welcomes some newbies to the cast, most notably Javier Bardem as our villain, as well as Kaya Scodelario, Brenton Thwaites, and Golshifteh Farahani. Returning are favorites Geoffrey Rush, Kevin R. McNally and Stephen Graham.
Look for Pirates of the Caribbean: Dead Men Tell No Tales in theaters July 7, 2017 and until then, see how it all got started and watch Pirates of the Caribbean: Curse of the Black Pearl online.