Who would have thought that it would be The SpongeBob Movie: Sponge Out of Water that would knock American Sniper off its three weeks in a row perch atop the box office charts. The Paramount movie, based on the Nickelodeon hit animated show, landed at number one with an astonishing $56 million debut.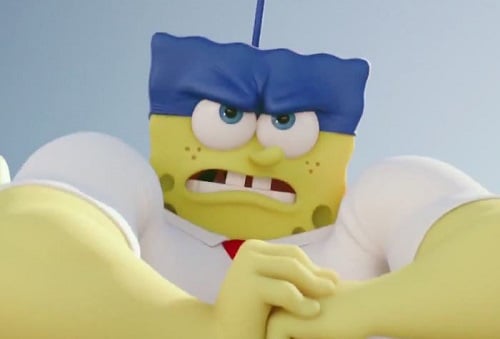 The SpongeBob Movie: Sponge Out of Water became the fifth highest debut in February history (The Passion of the Christ is number one) and performed way beyond expectations. Insiders had pegged the CG animation/live action hybrid at scoring between $20 and $30 million, so this is a huge … well, splash!
American Sniper didn't fall far, landing in second place. The Bradley Cooper-starring Oscar nominee that sees Cooper portraying the most lethal sniper in U.S. history (Chris Kyle) added another $24 million to its haul, taking it to $282.2 million total.
Third place belonged to another debut, the Wachowskis' Jupiter Ascending. The sci-fi flick earned $19 million, a higher debut than Speed Racer and Cloud Atlas.
Not so happy is the other new release this weekend, the long-delayed Jeff Bridges-starring Seventh Son. It landed in fourth place with a paltry $7.1 million. Closing out the top five is the stellar Paddington, which is still chugging along. The adorable little bear took in another $5.4 million to take its total to $57.2 million.
Next week brings Fifty Shades of Grey. Will it knock off Gibson's The Passion of the Christ and its $83.8 million record for a February opening? We think it might.
Box Office Top 10:
1. The SpongeBob Movie, $56 million
2. American Sniper, $24.2 million
3. Jupiter Ascending, $19 million
4. Seventh Son, $7.1 million
5. Paddington $5.4 million
6. Project Almanac, $5.3 million
7. The Imitation Game, $4.9 million
8. The Wedding Ringer, $4.9 million
9. Black or White, $4.5 million
10. The Boy Next Door, $4.1 million