The Theory of Everything DVD Review: Brilliantly In Love
by Joel D Amos at . Updated at . Comments
The Theory of Everything is one of our top 15 of 2014 and it is no surprise that it scored so many Oscar nominations, including one for Best Picture, a Best Actor nod for Eddie Redmayne and a Best Actress nomination for Felicity Jones. Now that The Theory of Everything has landed on DVD, Blu-Ray and digital download, it is a chance for the entire world to discover this romantic and inspiring cinematic gem.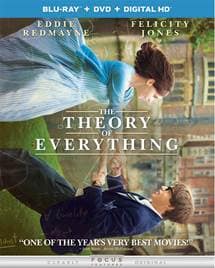 Redmayne is Stephen Hawking and we first meet him as a brilliant student pushing the boundaries of what we know about physics. When he meets Jones' Jane at a social, sparks immediately fly and these two are quickly peas in a pod. As their romance and his career blossoms, physically he starts to have some serious problems. He is diagnosed with ALS and with Jane as his rock, he fights through what would be a death sentence for many and emerges as one of the greatest minds to ever live.
As we stated in our theatrical The Theory of Everything review, the film (based on Jane Hawking's memoir Travelling to Infinity: My Life with Stephen) is wildly enchanting and a tribute to the human spirit and how greatness cannot be held down by the limitations of the human body.
Where Hawking was weak, his mind was sensationally strong and we see throughout the movie how he became not just a great mind of our time, but one of the most recognizable names in science and a bestselling author who has permeated pop culture while simultaneously pushing our awareness of the universe's birth, expansion and even mere existence.
When it comes to The Theory of Everything bonus features, there is as much here as there is in the film itself to utterly adore. The five-time Oscar nominee is a home video release to cherish and witness over and over.
Becoming the Hawkings takes an in-depth look at how filmmakers and the actors achieved the impossible. Watching Redmayne alone contort his body as he becomes the man whose body is ever-crippling, is nothing short of brilliance incarnate. His is one of the most astounding performances of our time and to see the behind-the-scenes efforts to bring this important story to life is a true gift.
What else becomes apparent on the Becoming the Hawkings featurette is how the entire cast and crew were so committed to this story. They knew it was something special. They knew it was an important motion picture that transcends the medium. Then there's the relationship that developed between Jane and the woman charged with playing her, Jones. Jane's passion for the project is all over the place and something truly to behold.
We are not normally one for deleted scenes as there was clearly a reason they were cut in the first place. But with the deleted scenes on The Theory of Everything, we relished them. Any chance to spend more time with these incredible souls within this astounding story are moments to treasure.
Then, there's the feature commentary with director James Marsh. It is another powerful dimension to telling a story that is truly one for the ages.
Watch The Theory of Everything online and prepare to be mesmerized.