It's Valentine's Day weekend so this time out the Movie Fanatic weekend movie preview is feeling the love. 
The highly anticipated love of S&M flick Fifty Shades of Grey leaps from the pages of EL James to the big screen. We love the Matthew Vaughn actioner Kingsman: The Secret Service and you'd be hard-pressed to find a more accurate portrait of modern love than the movie musical The Last Five Years with Anna Kendrick. 
Let's break it down...  
Fifty Shades of Grey: The wait is over for fans of the Twilight fan fiction turned literary sensation! Christian Grey and Anastasia Steele head into the cinematic play room in this tale of an innocent college student who finds "love" with a 27-year-old billionaire. Dakota Johnson and Jamie Dornan tackle the leads and unfortunately, they don't have the chemistry needed to make this work. 
But as our Fifty Shades of Grey review points out, even the best performers in the world couldn't save this hot mess. The dialogue is terrible. The sex is laughable. There is very little to like about this movie. But, we do know that fans will still line up to take it in. We think it will break the February box office record.
Kingsman The Secret Service: The best movie out this weekend is the Matthew Vaughn-directed action thriller, based on the comic book miniseries by Mark Millar. Colin Firth stars as the leader of the Kingsman, a super spy agency who operate without any control by any government. They do what no one else will do and they're also incredibly good at it. 
Firth's agent sees something in a young punk and takes him under his wing to train him in the ways of kicking serious ass for the betterment of the world. For more, don't miss our Kingsman: The Secret Service review. It is simply one of the best movies you will see all year. Yup, we said it.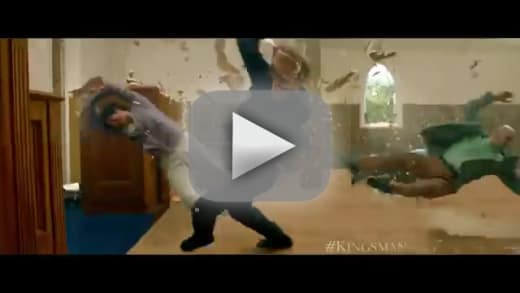 The Last Five Years: Kendrick does another musical and this one is a romantic winner. Jeremy Jordan and Kendrick have serious chemistry, unlike our other "romantic" couple in a movie arriving this weekend. The musical is based on the Broadway hit that has legions of fans eagerly awaiting its arrival on the big screen. 
Our The Last Five Years review promised that those fans will not be disappointed. This movie sings and doesn't miss a single emotional high note.
If you feel like staying in this weekend, there's plenty to love about this week's arrivals on digital download.
Watch The Best of Me online for a classic Nicholas Sparks romance this lovey-dovey weekend. Also out is the incredible film that gave Jake Gyllenhaal the best role of his life. Watch Nightcrawler online and see what we mean.