It makes sense given where Marvel is going through 2019 with their films, but Captain America: Civil War is getting crowded. Maybe we should call it Avengers 2.5?!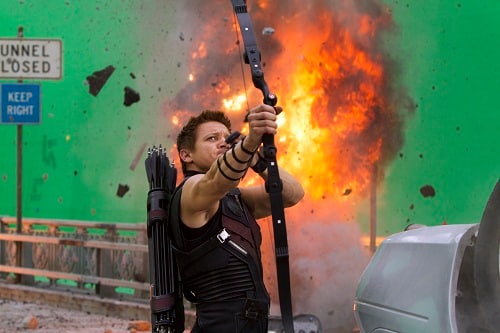 Word arrived today that Jeremy Renner and his heroic alter ego Hawkeye will be in Captain America: Civil War, joining previously announced Robert Downey Jr. (as Tony Stark/Iron Man), Scarlett Johansson's Black Widow as well as Anthony Mackie's Falcon and it appears Chadwick Boseman's Black Panther.
Then again, with Avengers: Infinity War Part 1 and Part 2 being the epic conclusion one would expect from the series, it has to be set up, and what better way than to start that process in the literal sequel to Captain America: The Winter Soldier?
Avengers: Age of Ultron lands May 1 and judging by the latest Avengers: Age of Ultron trailer, things are starting to get a little complicated for our superhero conglomerate.
It makes us wonder... if Cap and Iron Man are clearly anchored on opposite sides of an issue, what side will Hawkeye take?
We're guessing that since Falcon has to be on Cap's side too, Hawkeye will be Team Iron Man. But, you never know. Maybe some of those new superheroes that are getting introduced (like Captain Marvel) over the next couple of years will find themselves syncing with Stark.
Of course, if you have read the comics, you know how this all plays out… we're just having some fun with those who enjoy the Marvel Cinematic Universe and don't know the immense and massive treat they are in for as the Marvel movie world heads forward.
The biggest question is when will they announce that Spider-Man is joining Captain America: Civil War, after that deal that brought Spider-Man back to Marvel?