It wasn't just Prince Charming that fell in love with Cinderella, audiences turned out in droves to see Disney's live action version of their animated classic. The Kenneth Branagh-directed film starring Lily James as the titular iconic character took in a magical $70 million!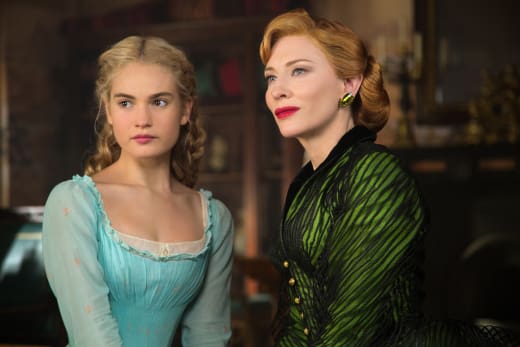 You would think that would be record setting, and although an absolutely incredible debut, the Cinderella opening weekend is the fifth highest in history. It sits behind The Hunger Games, Alice in Wonderland, Oz the Great and Powerful and 300.
Now there's one statistic we'd like to see that we will probably never know. How many of those who went to see Cinderella were there to see the next chapter in the Frozen phenomenon, the short film Frozen Fever that played before Cinderella? Makes you wonder, no?
Second place belonged to the Liam Neeson action flick Run All Night. Although $11.2 million is pretty solid for a March debut (last week's champ, Chappie, only made $13 million and won the box office), it is pretty low for a Neeson film. However, he has had four action flicks in the last 12 months… so maybe his desire to only do action movies for two more years is not a bad move.
Third place belonged to the movie that won't quit (and one that will easily be on our best of 2015 list when all is said and done), Kingsman: The Secret Service. The Colin Firth-starring film from Matthew Vaughn earned $6.2 million to bring its total to $107.3 million.
Will Smith's latest continued its run as Focus came in fourth and added another $5.81 million to take its total to $44 million.
Closing out the top five was Chappie and its $5.8 million. In two weeks, Chappie has taken in $23.3 million.
Box Office Top 10:
1. Cinderella, $70 million
2. Run All Night, $11.2 million
3. Kingsman: The Secret Service, $6.2 million
4. Focus, $5.81 million
5. Chappie, $5.8 million
6. Second Best Exotic Marigold Hotel, $5.7 million
7. The SpongeBob Movie: Sponge Out of Water, $4.1 million
8. McFarland, USA, $3.7 million
9. American Sniper, $2.9 million
10. The DUFF, $2.9 million