Foxcatcher DVD Review: Steve Carell Wrestles With Insanity
by Joel D Amos at . Updated at . Comments
John du Pont led the most unusual and subsequently criminal of lives, chronicled in Bennett Miller's Foxcatcher. The film features Oscar-nominated turns by Steve Carell and Mark Ruffalo and a career moment for Channing Tatum.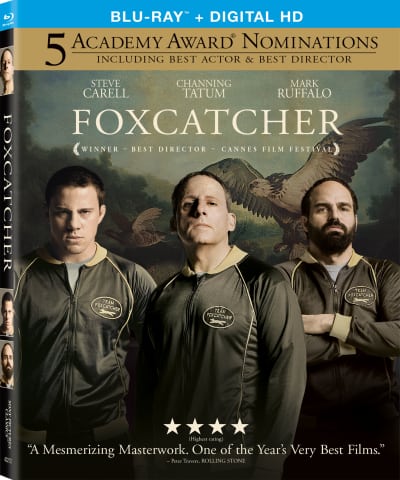 Foxcatcher arrives on DVD, Blu-Ray and digital download and it is a chance to delve into one of the less talked about sensational crimes of the last 30 years and try to make sense of the senseless.
Carell scored a Best Actor nod for his turn as du Pont, an eccentric heir to the chemical family fortune who took a passion for wrestling and shook the U.S. Olympic wrestling world upside down.
Mark Shultz (Tatum) and his brother Dave (Ruffalo) are the Schultz brothers, Olympic gold medal winners in wrestling. They have a collective desire to get Mark back to the Olympics for another shot at golden glory.
After du Pont reaches out to Mark and invites him to train at his Pennsylvania-based Foxcatcher ranch, the younger brother sees it as an opportunity to escape from his sibling's shadow. Little did he know that it would ensnarl his entire family in one seriously terrible murderous tragedy.
As we stated in our theatrical Foxcatcher review, Miller directs with a powerful even hand. It's no wonder he scored one of those highly competitive spots this year as a Best Director nominee at the Academy Awards.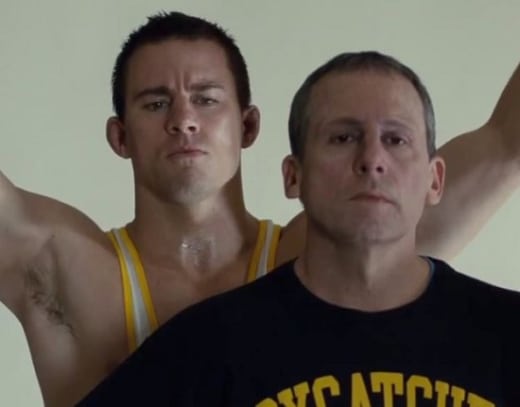 These Foxcatcher quotes also show off the strength of the E. Max Frye and Dan Futterman screenplay that takes what could have been some one-sided caricatures of real people and flushes them out with life. In fact, don't be surprised if you seek out the documentary that is shown being filmed in the movie itself that du Pont had commissioned. Audiences will just want to see this real guy to delve further into this haunting and utterly creepy story.
The bonus features are not high in quantity, but are in quality.
The making-of featurette The Story of Foxcatcher​ features conversations with Tatum, Carell and Miller. Getting their insight while simultaneously learning about the film's shoot adds layers to the entire Foxcatcher experience. Although Ruffalo may have been the best actor (by a hair) in the film, this story is truly centered on Carell and Tatum's characters.
Hearing the pair explore their cinematic chemistry, ultimately realizing that whether the film worked or not was firmly on their shoulders, is a study in acting with a partner for film.
Watch Foxcatcher online and enjoy a Best Picture nominee.