There has been a whole lot of casting news emerging from Independence Day 2!
Now, we knew that there was no way that Will Smith would be in Independence Day 2. But, we always wondered whether Jeff Goldblum might be back to reprise his role as David Levinson, the man who seemed to know all along that the alien invaders from Independence Day were not here for a good time.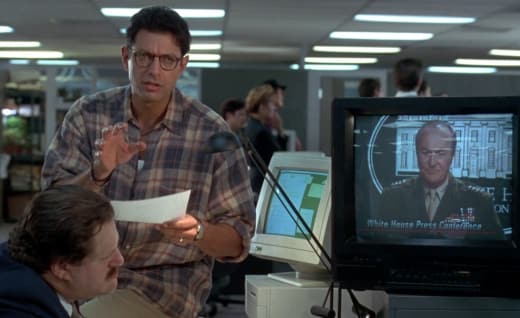 Director Roland Emmerich took to his Facebook page and made the announcement that Goldblum would return and that he had some other casting news as well.
Remember the little boy who was the son of Smith in the first film? Well, he's all grown up and will be one of our leads in Independence Day 2 and he will be played by Jessie Usher.
"My producing partner Harald Kloser noticed Jessie in between sets of pushups at the gym and gave him an audition," Emmerich said on his social media page. "As they say, the rest is history!"
Another actor who is no stranger to franchises has also signed on to the follow-up that is 20 years in the making. Liam Hemsworth of The Hunger Games movies has also accepted a role as one of the leads. It is rumored that he will play the son-in-law of President Whitmore (Bill Pullman) from the first movie.
Watch Independence Day online and get ready for Independence Day 2 in theaters June 24, 2016. The first film banked over $817 million.
Will Independence Day 2 be one of the great sequels…or will it be one of the worst sequels? Time will tell...