Knights of the Roundtable: First Photo & Synopsis Revealed!
by Joel D Amos at . Updated at . Comments
"First day on KORT," said director Guy Ritchie on his Twitter feed and thus the production for the highly anticipated story of King Arthur and his Knights of the Round Table has begun. 
And who's that by his side in the photo that Ritchie included with his tweet? Why, that's Charlie Hunnam, who is set to portray King Arthur.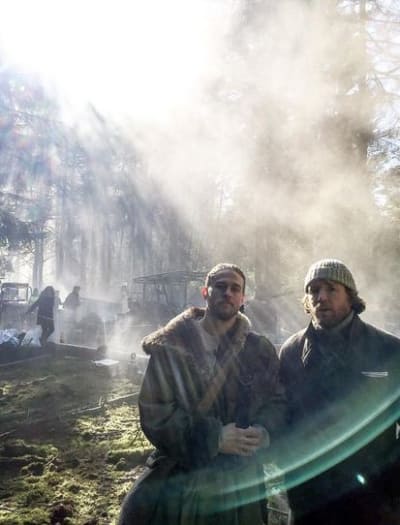 We think it is a stroke of casting genius and we could not be more thankful that the Sons of Anarchy star skipped out on Fifty Shades of Grey so that he could make a Ritchie movie with him portraying the leader of Camelot!
Warner Bros. has also released the film's first synopsis:
The bold new story introduces a streetwise young Arthur who runs the back alleys of Londonium with his gang, unaware of the life he was born for until he grasps hold of the sword Excalibur -- and with it, his future. Instantly challenged by the power of Excalibur, Arthur is forced to make some hard choices. Throwing in with the Resistance and a mysterious young woman named Guinevere, he must learn to master the sword, face down his demons and unite the people to defeat the tyrant Vortigern, who stole his crown and murdered his parents, and become King.
The brilliant cast doesn't start and end with Hunnam. Ritchie's Sherlock Holmes star Jude Law is set to be the villainous Vortigern and Pirates of the Caribbean: On Stranger Tides breakout Astrid Berges-Frisbey is set to be Guinevere.
The film will follow Arthur as he claims his destiny that we all know from the legend. But, do we really know how the iconic man got there? Ritchie promises an educational and we suspect surely entertaining (and action packed) adventure that could be the first in a series. In fact, Ritchie has been quoted as saying -- in his mind -- this is a six-picture series.
Look for Knights of the Round Table on July 22, 2016. Next up for Ritchie is the film teased in this riveting The Man from U.N.C.L.E. trailer.
See Ritchie's most recent work right now and watch Sherlock Holmes: A Game of Shadows online.