Liam Neeson To Do Action Movies for "Maybe Two Years" More
by Joel D Amos at . Updated at . Comments
Since the success of Taken, Liam Neeson has enjoyed a nice career revival as an action hero. The actor was already a huge success and an Oscar nominee (for Schindler's List) and enjoyed wide acclaim and fame.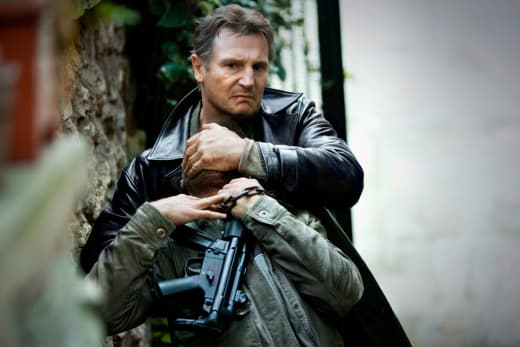 But when Taken landed, it changed everything.
He has another action flick coming out this week, Run All Night, which finds him as a mob assassin trying to keep himself and his son (Joel Kinnaman) alive for just one more night while he figures out who is trying to wipe out the entire mobster business that he protects.
Just earlier this year, Neeson had massive box office success with Taken 3, and several months before that, he ruled the action movie genre again with the dark and delicious A Walk Among the Tombstones.
Neeson is 62-years-young and when interviewed by The Guardian for his latest role, he was asked how much longer he could see doing this action hero thing. "Maybe two more years, if God spares me and I'm healthy," he said. "But after that, I'll stop [the action] I think."
We hope the operative phrase in that quote is "I think." Neeson is actually no stranger to action with his early career work in Darkman and of course in Star Wars: The Phantom Menace.
Recently, he has also had The A-Team, Unknown, Non-Stop and The Grey… and of course Taken 2.
He goes comedy again this summer in Ted 2, reuniting with his A Million Ways to Die in the West helmer Seth MacFarlane, but after that, maybe it'll only be a few more flicks where he kicks ass.
Movie Fanatic certainly hopes not -- although, we wouldn't mind him returning to deep and rich roles, like the one that brought him an Academy Award nomination.
See how Neeson's action career got going (again) and watch Taken online.