Marvel Movie Marathon Coming to Theaters: Where & When?!
by Joel D Amos at . Updated at . Comments
With the arrival of that stunning Avengers: Age of Ultron trailer, it is clear that the volume is being seriously turned up in the world of Marvel. In an effort to fan that fire, the studio announced that it was going to hold a one-day marathon that features 27 hours' worth of the comic book studio's best!
And if you aren't ready for the arrival of the sequel to The Avengers after more than a full day of Marvel madness, there is seriously something wrong!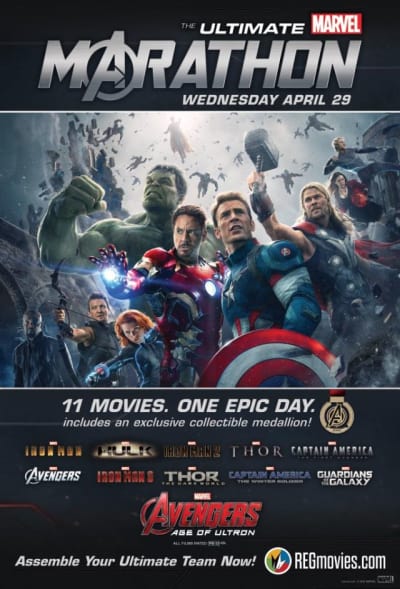 "The Ultimate Marvel Marathon" will have every single Marvel Studios movie ever released under their banner. It will commence April 29 with Iron Man and close on April 30 with the official debut of Avengers: Age of Ultron.
Fans of Marvel's superheroes can witness this movie marathon at AMC Theaters, Cinemark, Megaplex, National Amusements theaters, Harkins theaters and Regal Entertainment Group theaters on April 29.
Just for reference, here's the schedule for the Marvel Movie Marathon at AMC Theaters:
6:00 pm Iron Man
8:25 pm The Incredible Hulk
10:35 pm Iron Man 2
1:00 am Thor
3:10 am Captain America: The First Avenger
5:30 am The Avengers
8:48 am Iron Man 3
11:15 am Thor: The Dark World
1:45 pm Captain America: The Winter Soldier
4:20 pm Guardians Of The Galaxy
7:00 pm Avengers: Age Of Ultron (RealD 3D)
Early tickets can actually be purchased now for the May 1 debut of Avengers: Age of Ultron. Watch The Avengers online now to get a bit of a tease!