Mockingjay Part 1 DVD Review: Revolution Is Thrust Upon Katniss
by Joel D Amos at . Updated at . Comments
The highest grossing movie of 2014, Mockingjay Part 1, has arrived on DVD and Blu-Ray. The third The Hunger Games movie overtook Guardians of the Galaxy recently as receipts were tallied and now fans of the Suzanne Collins book series can add this fantastic home video package to their collection as Lionsgate has released the phenomenal third chapter.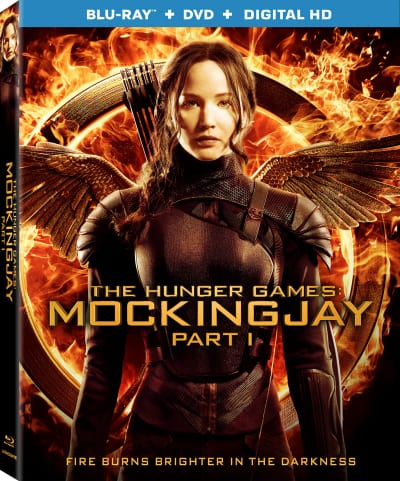 As we stated in our theatrical Mockingjay Part 1 review, what works so well for this Francis Lawrence-directed film is that he takes into account what happens when you watch Catching Fire online. Katniss (Jennifer Lawrence, still awesome) has clearly got to have some serious PTSD.
It shows in the film's first two acts. She also is less concerned about a brewing revolution that she may have sparked and worries more about her Hunger Games partner/potential love interest Peeta (Josh Hutcherson), who was left behind when rebels swooped in and picked her up at the end of the last film.
This is a fantastic chance for a blockbuster movie to show some real emotion. With an Oscar winner handling the psychological landmines, it only elevates the film's power.
We also get a (recent) Oscar winner in Julianne Moore as President Coin. Moore is impeccably cast as the leader of the revolution. She seems an open book, but yet she very much keeps all her motivations close to her chest. She may be seeking to depose President Snow (Donald Sutherland, who keeps getting more vicious as this series goes on!). But, what are Coin's true intentions for the revolution's aftermath? These are answers we will clearly get when Mockingjay Part 2 lands this November!
It is also bittersweet to see Philip Seymour Hoffman. He is so fantastic in the role of Plutarch Heavensbee, President Snow's advisor turned confidant of President Coin.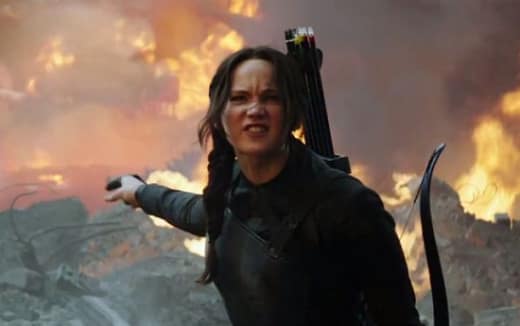 What also is a nice surprise is the damaged emotional arc that Hutcherson has to emit with his Peeta in Mockingjay Part 1. Is he brainwashed? Does he have PTSD? And now, we are left wondering where his allegiances lie. It's all supremely fascinating and has us eagerly awaiting the final chapter this winter. Until then, we always have those Mockingjay Part 1 quotes!
When it comes to bonus features, like the previous The Hunger Games home video releases, no creative stone is left unturned. There is over five hours' worth!
Our favorite has to be The Mockingjay Lives: The Making of Mockingjay Part 1. This featurette showcases interviews with the cast and filmmaking team behind the movie that have never before been seen. Viewers also get on-set footage that truly takes fans inside the making of a page-to-screen masterpiece.
This featurette chronicles this flick from the script adaptation, set construction and design, and even location scouting. Fascinating is too tame of a word to describe the depths with which the Mockingjay Part 1 team went to educate and enlighten audiences on this one!
Given that it is Hoffman's final role, the inclusion of Straight from the Heart: A Tribute to Philip Seymour Hoffman is about as perfect of a salute as the late actor's fans could ask for. Put it this way, audiences will miss him even more -- if that is even possible.
One of the more interesting developments while the movie was being made was the tapping of Lorde as "curator" of the film's soundtrack. She herself contributed a Golden Globe-nominated theme with Yellow Flicker Beat. But Songs of Rebellion: Lorde on Curating the Soundtrack is a terrific featurette that chronicles the young singer's effort to put together a score of songs that fit the themes and emotional peaks and valleys of Lawrence's motion picture.
Watch The Hunger Games: Mockingjay – Part 1 online now.