Hot on the heels of that first San Andreas poster, the Dwayne Johnson disaster flick has given us a second trailer that is bigger, badder and more jaw-dropping than the first.
We love how the teaser opens with a shot of Johnson's co-star Carla Gugino (who plays The Rock's ex-wife) as she awakes from being knocked out after the first earthquake hits.
She is disoriented. Her head is ringing and she is not sure where she is. Then, the camera pulls back and we realize that she is on the top of a Los Angeles skyscraper that is about to tumble. 
Enter Johnson's search and rescue helicopter pilot who swoops in and saves the day before the building crumbles. That, ladies and gentlemen, is just the beginning.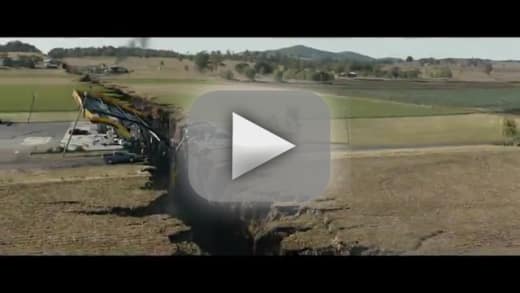 Other notables from this over two-minute teaser for San Andreas​, that lands May 29, is that the Paul Giamatti voice-over (from a talk his character gives) literally paints a picture that is downright horrifying. Especially for those of us who live out here in La-La land! 
Johnson and Gugino must get from LA to San Francisco to rescue their daughter (Alexandra Daddario) before the entire state falls into the Pacific Ocean.
Oh, and nice touch, Warner Bros., using the song California Dreamin' as your score.