Sean Penn Defends Oscar Green Card Joke: "I Don't Give A…"
by Joel D Amos at . Updated at . Comments
When Birdman won Best Picture at the Oscars last month, right before Sean Penn announced who the winner was, he uttered a joke to let his dear friend know that he had won, before tens of millions would learn who had earned Hollywood's top honor.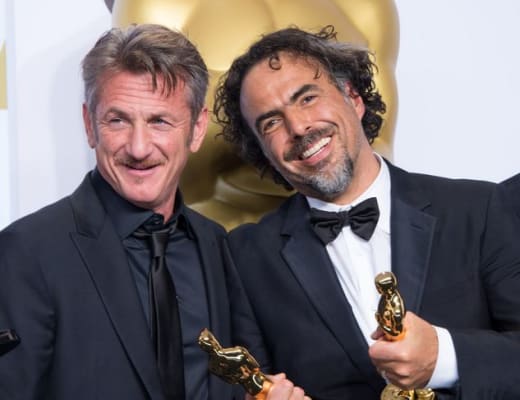 Unfortunately, some people didn't see the humor in Penn's comment when he addressed Mexican-born director Alejandro Inarritu (his director from 2003's 21 Grams) and said, "Who gave this guy a green card?"
The left and the right got upset. Immigrant groups got upset. And Penn, well, when we caught up with him at the press day for his latest film, The Gunman, he had plenty to say about it and addressed people's reactions head on. 
"I think they could be a bit more cheerful," he said and chuckled.
"My feeling about that is that when you identify yourself with fundamentalist thoughts or identities that pursue a common enemy, that you are very likely to miss irony and that you will render yourself a foolish individual or large groups of individuals that I'm really happy to have them be."
Penn then explored the controversy further, and frankly, gave an answer one would expect if you had paid any attention to this man's opinions over the last several decades. 
"I think what's most offensive is we're attaching a protective sensibility to something is actually that which is meant to create self-censorship in people's interactions. I think that when somebody as special as Alejandro makes a film as special as Birdman was, that if he has a friend on stage -- that maybe that friend on stage wants to let him know that he won privately for a moment before the room knows… and he did."
Penn and Inarritu are close. They have known each other for over a decade and spent a whole ton of time together and we suspect that Penn has made that joke to the helmer's face. And we suspect that Inarritu has made a few jokes at Penn's expense.
It's between the two of them, and somehow, as Penn says, idiocracy won the day and it became an international incident.
"There was a history there," Penn said of his dear friend (and now Oscar winner).
"I wanted him to know it first and he did. And that's who I was talking to. So I don't give a (expletive) about all those people."
Did we expect anything else from Penn? Hardly! And frankly, the entire press day with the legendary actor was everything you'd expect and more. Look for it the week The Gunman comes out, March 20. 
Watch Birdman online and see what Penn means... it's brilliant.