Star Wars The Force Awakens Second Trailer: Does Luke Appear?
by Joel D Amos at . Updated at . Comments
That first Star Wars: The Force Awakens trailer was downright earth-shattering. It even made the evening network news! But, that is hardly surprising since expectations could not be higher for any movie in recent (or not-so-recent) memory. Now, fans are wondering: What is next and when can we expect to see the next trailer for J.J. Abrams' sci-fi epic?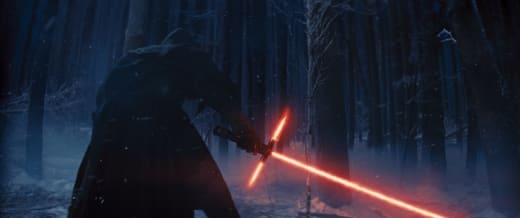 While Harrison Ford recovers from his plane crash, it's nice to have something to discuss about his work, now that we know he's going to be OK.
So, second trailer… what can we expect?
First off, will the big three from the first trilogy appear? We're thinking yes.
Latino Review, who has had a pretty solid history of predicting such things, claims that they know exactly what will be contained in that second trailer.
We see John Boyega and Daisy Ridley with that lightsaber that they found that we all know belongs to Luke Skywalker and when they turn it on it's green -- like Return of the Jedi green!
Speaking of Ford, Han Solo shows up getting onto his iconic ship (with Chewie) and turns to say goodbye to Carrie Fisher's Princess Leia.
Then Luke Skywalker finally makes his presence felt and shows up as a shadowy figure in a dark robe as Andy Serkis says in voice over, "Don't get too sentimental."
We had a feeling that Luke might be following in his father's footsteps. But, maybe that "sentimental" comment has some other meaning. It's all conjecture at this point and we, frankly, are just thrilled to be talking about a new Star Wars movie!
Now, as for when we will see it... We guess and would bet on the fact that it will be revealed at the Anaheim-based Star Wars Celebration that is April 16 through April 19.
Here's what we took away from that first Star Wars: The Force Awakens trailer!