American Sniper became the highest grossing movie of 2014, after topping Mockingjay Part 1 recently, and now we have news about the Clint Eastwood-directed, Bradley Cooper-starring blockbuster coming home.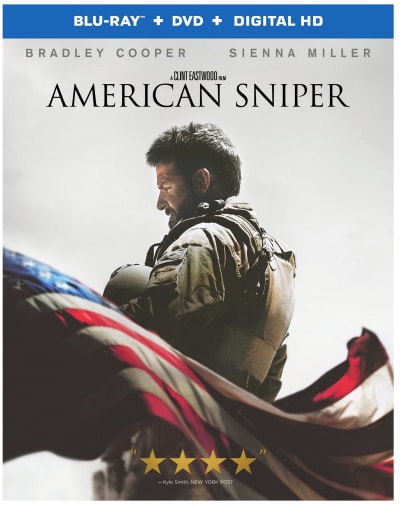 Warner Bros. has announced plans for American Sniper to come home on Blu-Ray combo pack, DVD and digital HD on May 19.
American Sniper stars Cooper as Chris Kyle, the U.S. Navy SEAL sniper who recorded more combat kills than any other sniper in U.S. military history. During his time in Iraq, he became so notorious by insurgents, that there was a bounty on his head.
What sets American Sniper apart though is that the film is as much about what Kyle achieved on the battlefield as he did on the homefront. He was married and had children and every time he came home in between tours, it was a struggle and Cooper impeccably captures it in a performance that was rewarded with an Oscar nomination for Best Actor.
We're also thrilled to report that Warner Bros. will be donating a portion of the profits from the American Sniper home video release to the Wounded Warrior Project, a total that could reach $1 million.
When it comes to extras, we cannot wait to explore the following:
One Soldier's Story: The Journey of American Sniper -- Join director Clint Eastwood and his creative team, along with Bradley Cooper and Sienna Miller, as they overcome enormous creative and logistic obstacles to make a film that brings the truth of Navy SEAL Chris Kyle's story to the screen.
Making of American Sniper