Artie Lange Talks Laugh Killer Laugh and Dirty Work 2
by MF Staff at . Updated at . Comments
Comedian Artie Lange is one of the funniest people on the planet.
Lange first came to fame as a stand-up comic, eventually becoming an original cast member of Mad TV. After leaving the series, he starred opposite Norm MacDonald in the now cult classic comedy Dirty Work, as well as his Fox series The Norm Show. He went on to appear in such popular films as Jerry Maguire, Old School, and Elf. But Lange found his true calling as the King of all Media's sidekick for eight years on The Howard Stern Show. The comedian can currently be seen playing himself in the new film Laugh Killer Laugh, which was written and directed by Kamal Ahmed (The Jerky Boys), and opens in theaters on April 24th.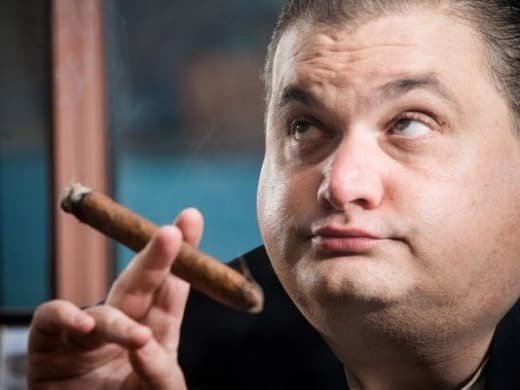 Laugh Killer Laugh revolves around a Jewel thief named Frank Stone (William Forsythe) who is a very deeply disturbed, anti social, milquetoast that finds no joy or humor in anything - until he awakens from a deep emotional coma. Lange appears as himself in the final scene of the film performing jokes from his act at a comedy club that Stone visits. In addition to Forsythe and Lange, the movie also features Bianca Hunter (The Fighter), Victor Colicchio (Inside Man), and Tom Sizemore (Saving Private Ryan).
Our friend Jami Philbrick recently spoke with Artie Lange about his work on Laugh Killer Laugh, as well as Dirty Work. The hilarious comedian discussed his new film, how he got involved with the project, his friendship with director Kamal Ahmed, how he chose what jokes from his act to use, why it's easy playing himself, the genius of Tom Sizemore, the legacy of Dirty Work, possibly making a sequel, and having the great Don Rickles make fun of him on screen.
Here is what Artie Lange had to say about Laugh Killer Laugh and Dirty Work 2.
Movie Fanatic: To begin with, how did you get involved in Laugh Killer Laugh?
Artie Lange: I've known Kamal (Ahmed) for over 20 years and I've done a few of his other movies. He called up and said he needed me to do a few old minutes of stand-up. I said all right because I always trust him. I went down to the club where he was shooting and did  a few minutes of my old shit that he said he was going to add in. It was fun.
Movie Fanatic: How did you decide which parts of your act you wanted to include in the film?
Artie Lange: I was about to do a special on Comedy Central. So I told him I couldn't do any new stuff because I was doing the special. Kamal said, "Just do some old stuff. I just need a few jokes from a stand-up." So I just did shit that I used to do in clubs and stuff. It was unique. I did about six or seven minutes when we shot it and he put in three minutes but it was real pain free.
Movie Fanatic: Is it easier playing yourself rather than a character?
Artie Lange: It's easier than playing a gay guy or something. Or a guy with an Irish accent because you really have to act to do that shit. Playing my stupid idiot self is simple.
Movie Fanatic: Have you seen the film yet?
Artie Lange: Yeah, I saw a screening and loved it.
Movie Fanatic; I think Tom Sizemore is incredible in it. What did you think of his performance?
Artie Lange: I never met him. I did a phone interview with him on my old show. He was a real cool guy to talk to. I wasn't on the set when he was there. But Kamal does dark characters like that and he knows how to insert that into a film. Sizemore was fucking perfect for that. He really nails creepy in a great way.
Movie Fanatic: Artie, I have to tell you I'm a huge fan of Dirty Work. I think that is one of the most underrated yet brilliant comedies of all time.
Artie Lange: Oh thanks. Norm (MacDonald) would love to hear that. It's funny, I did two films that people like in a cult way, and that's one of them. I had fun making it. I think if you like Norm you'll like it. (Chris) Farley is so funny in it. It's Chris' last movie. I appreciate that man. It was fun to make.
Movie Fanatic: Why do you think the film was initially ignored, but now has a big cult following?
Artie Lange: Yeah, that happens with a lot of films. Dirty Work is one of them I guess, which is great. I just talked to Norm the other day. He said that through Kickstarter we should do Dirty Work 2. Which would be funny because neither of us has aged well. So it will be funny in that sense. It didn't make much money and critics hated it but what the fuck? That's what a lot of comedies are. But people saw it thank God, on cable and liked it a lot. A lot of DVD sales so we're proud of that. Again, I'm happy for Norm. I remember reading the script before I auditioned and met Norm and it was so (expletive) funny.
Movie Fanatic: Do you think Norm was serious about making a sequel?
Artie Lange: I told him to call me. I'm not busy making Iron Man 4 so I could do it. I don't know, we'll see. Sometimes Norm says shit, but that would be fun to do.
Movie Fanatic: You have a hilarious scene in Dirty Work with Don Rickles. What was that like to film?
Artie Lange: I've told this story before, but it was the first scene we shot. It was the first big movie I had a part in and I was nervosa. If you are going to get fired from a movie it's going to be the first few days before you're on film a lot. Rickles couldn't remember the script. So after a while Bob Saget the director just pointed to Norm and me, and told Don to insult us like he would. So he just riffed, and I'm the first guy he goes up to and I laughed every time. I blew 20 takes before I got it right. Norm is laughing too in the movie. They couldn't get a take where he's not laughing. He was hilarious on and off screen. It was a pleasure to meet him. That's all ad-libbed that entire scene.
Movie Fanatic: Finally, did you get to spend anytime with Don Rickles off the set or just when you were shooting that scene?
Artie Lange: He was so funny off set. In fact, I don't know where this video tape is or if it still exists, but I got the PR person for the film who had a video camera shoot Don saying hi to my mom on video. Because my mom is from that Sinatra era and she loves Don Rickles. He was insulting me to my mother and it was so funny. My mother saw the video and it made her laugh a lot. I wish I still had that thing, I don't know where it is. But he was real nice to me. I loved him.