Big Eyes DVD Review: Tim Burton Paints a Different Picture
by Joel D Amos at . Updated at . Comments
Tim Burton has truly done something different with his work on the unbelievable true story Big Eyes. The tale of artist Walter Keane and his wife Margaret and those iconic Big Eyes paintings and the behind-the-scenes story as to who actually painted them comes to life in Burton's film that is unlike anything he's ever done and that is a very good thing.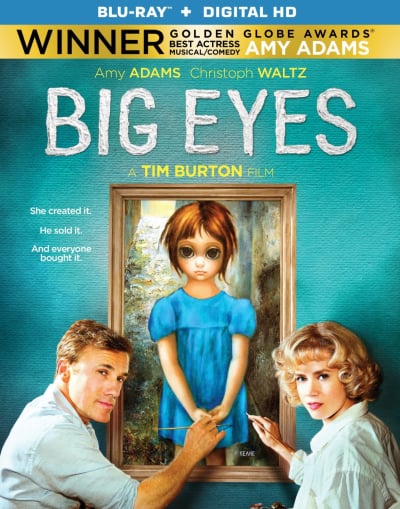 Burton goes straightforward with his look at this unique story and instead of beyond reality sets and larger-than-life characters, he has his most "normal" picture he's made in some time, if ever.
Christoph Waltz is Walter and Amy Adams is Margaret. The pair are impeccably cast and in any other year (that wasn't so crowded), we think both could have been nominated for an Oscar.
As teased in the Big Eyes trailer, Walter meets Margaret at an art fair and is impressed with her work. He too is a painter and the single mom sees something special in Walter and eventually the two get married. After some tough times getting his painting career going, through some happenstance, her paintings start to take off in popularity.
But, there's one thing… he takes credit for them as his own. Before she can do anything about it, the "big eyes" paintings are selling like crazy and have become a phenomenon. Walter even takes it a step further and in many ways originates the mass production of art work and his paintings (well, really hers!) become the first art/poster sensation of the twentieth century. Now he's become a celebrity and she keeps painting at home, stuck and strangled by her (ah, his) success.
Waltz is, as always, a fine bad guy. But in Big Eyes he manages to find a different level of squirminess that is believable, identifiable and yet still completely and utterly shockingly pathetic. Adams could not be more angelic, yet she still has depths of despair that paints her Margaret as a woman of her times. Eventually she would find her strength and the two would go to court, but you have to watch Big Eyes to see how Burton's story (and the real life tale) plays out!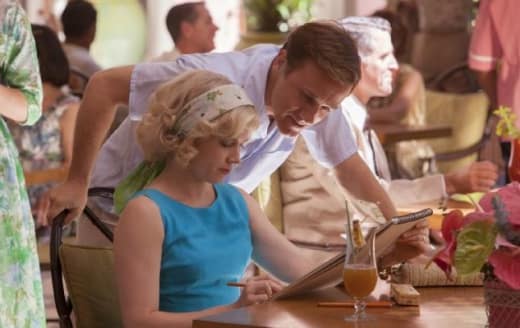 The look, the tone and even the score is very un-Burton and it is a nice and refreshing change for the filmmaker. For his fans, we cannot recommend this title enough. If you missed it in theaters (check out our theatrical Big Eyes review), don't miss it on DVD, Blu-Ray and digital download.
When it comes to bonus features, The Making of Big Eyes is a terrific twenty-plus minute look at how Burton put together his unique film and further shows why the filmmaker is one of our favorites.
An interesting addition is the second and final bonus feature, Q&A Highlights. The thirty-three minute conversation features the writers of the film with Margaret Keane and her daughter Jane Keane, along with Adams, and later has moderator Anthony Breznican hosting Burton, Adams, Waltz and co-stars Krysten Ritter and Jason Schwartzman.
Watch Big Eyes online right now!