Black Mass: First Look at Johnny Depp as Whitey Bulger!
by Joel D Amos at . Updated at . Comments
It is quite the first look at one of our favorite actor's latest films this week. Yesterday we caught our first picture of Johnny Depp back as Jack Sparrow in Pirates of the Caribbean: Dead Men Tell No Tales.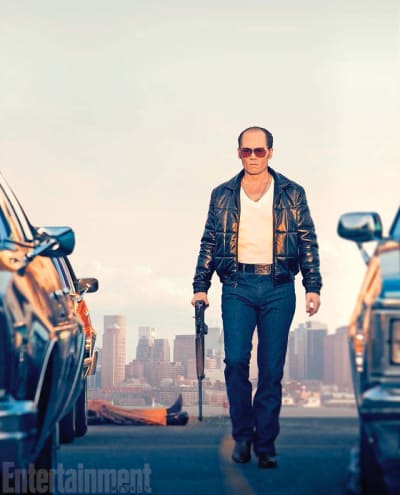 Today we have our first gander at Depp in his highly anticipated role as gangster Whitey Bulger in Black Mass. The photo arrives thanks to Entertainment Weekly and the scene from the Scott Cooper (Crazy Heart) movie appears to show Bulger right after taking someone out in broad daylight.
See, that was the kind of brutal gangster that the Boston crime boss was.
"He could be charming. He could be ruthless. He was like a cobra—you never knew where he could strike. A lot of people on set knew Whitey intimately," Cooper told EW.
"They got chills at [Depp's] resemblance. Some of them couldn't even look at him. It's easy to be the mustache twirling villain but this performance couldn't be further from that. He is truly gifted."
The Bulger story Cooper tells in Black Mass follows how the gangster went from brother of a state senator to one of the most notorious criminals in all of Boston history (eventually he went on to become an FBI informant -- all in an effort to protect his turf from Mafia infiltrators).
Black Mass also stars Joel Edgerton, Juno Temple, Kevin Bacon, Adam Scott, Peter Sarsgaard, Corey Stoll and Benedict Cumberbatch. Look for it on September 18.