Entourage: Jeremy Piven Teases Ari Gold's Leap to Big Screen
by Joel D Amos at . Updated at . Comments
When we visited the set of Entourage, one of the actors we were most eager to catch up with was Jeremy Piven. His Ari Gold is one of the most indelible in television history and we could not wait to hear where we would find the ultimate Hollywood insider when the show makes the leap to the big screen on June 3.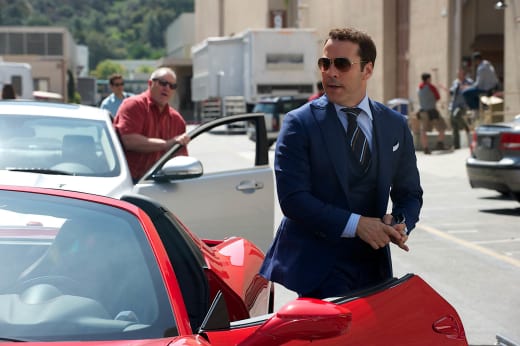 "It's kind of scenes we planted in the last episode. Am I going to rule the world or stay in Italy and continue to nurture the relationship with my wife? I think that we've kind of honored that and made a proposal and picked up not too long after that," Piven told Movie Fanatic.
"It's pretty true to what we know about Ari in terms of what the energy he would have would be like after sitting idle in Italy not having access to technology and to the work. So we pick him up in a very revved up state."
Oh, he's revved up alright. We know from that Entourage trailer that Ari is the head of a major Hollywood studio and he's a little tense because his former charge, Vincent Chase (Adrian Grenier), is starring and directing in a movie called Hyde that could make or break the former agent turned studio exec. The fact that Ari believes so much in Vinnie is exactly why it was so nice for Piven to return to the role.
"I think one of the cool things that I hung my hat on [with the show] was that he had so much loyalty to Vince. I think that he believes in him," Piven said. "He will back anything that he wants to do creatively. Ari will fend for his clients, as you saw."
Ari Gold is such a type A-personality, an uber driven character. We wondered what Piven does to get into the headspace and simultaneously, what he does to unwind from being that highly stressed individual. Ironically, it's the same thing.
"I do yoga. I've been doing yoga for over 20 years and I love it. Oddly enough, you wouldn't believe it, but I even do yoga before I play him. It's essential," Piven admitted.
"If you notice people when they are angry, they're at their most calm. They are usually not gasping for breath the way people might portray them. They're angry, but they're calm. So you have to kind of come from a very calm state, which is very strange considering it's such a juxtaposition to the way you see the character."
Piven has had a varied career over the years, but he admitted that the Entourage experience and playing Ari has almost taken on a life of its own. "I think there's no hiding who that character is. So the character was a blessing and a curse in the way that it is so fun to play him," Piven said.
"He's unstable. It's cathartic, but at the same time, it's incredibly draining. But I am so grateful to be able to ride with him again in the movie."