Guardians of the Galaxy 2: James Gunn Says It's About "Fathers"
by Joel D Amos at . Updated at . Comments
If you strip away the superhero-intergalactic nature of Guardians of the Galaxy, it was really a story about family. The film started with Star-Lord (Chris Pratt) getting ripped away from his own, only to eventually find a family with a ragtag group of outlaws that would become known as the Guardians of the Galaxy.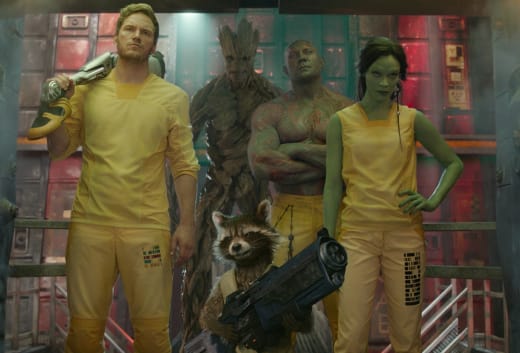 Director James Gunn was talking with Vulture about Guardians of the Galaxy 2 and believes that his sequel will hone in on that familial concept even further.
"At its heart, Guardians is a story about families and if the first film was about him and his mother, this is a story about fathers. So it's exciting to go there. Listen, I'm still excited about Star-Lord's character and where he goes," Gunn said.
The question of who is Star-Lord's father riddled those of us who are fans of the Guardians of the Galaxy since seeing the film and we believe that the second film from Gunn will explore that, but the answer to that question won't be answered until the third film.
"I knew for a long time what the story of the second one was gonna be," Gunn explains, "And the third one!"
Guardians of the Galaxy 2 is shifting production from London to Atlanta and will start shooting in February 2016 to make a release date of May 5, 2017.
Watch Guardians of the Galaxy online to see how it all got started.