Kingsman The Secret Service Announces DVD Release Date, Bonus Features!
by Joel D Amos at . Updated at . Comments
The astounding Kingsman: The Secret Service has announced plans for Blu-Ray, DVD and digital download. Every film fan should take note because one of the best movies of 2015 will come home on June 9 with digital download getting an early release date of May 15.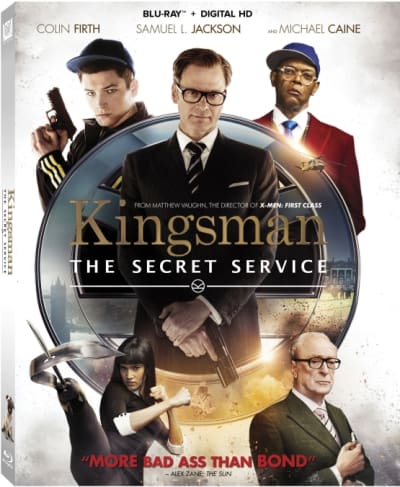 Colin Firth stars in the Matthew Vaughn (X-Men: First Class, Kick-Ass) directed film, based on the limited edition graphic novel series. The story follows Firth, who is a member of an ultra-secret spy organization that exists without the guise of any government organization. He sees something in young Taron Egerton and takes the kid off the streets and enters him into a training program to find the next group of Kingsmen (and women!).
Michael Caine stars as the leader of the group and Samuel L. Jackson is our villain and dives into the role with great aplomb!
As we stated in our theatrical Kingsman: The Secret Service review, the film will most certainly be on our top films of 2015 list and is one of the best spy/action movies we've witnessed in years. Vaughn had long said that he dreamt of being a James Bond director and we think he has achieved that with his latest, and then some! He's allowed to do things with Kingsman: The Secret Service that he could never do with a James Bond movie. Three words: The church scene!
The bonus features sound glorious, especially the 90-minute Kingsman: The Secret Service Revealed documentary that takes viewers inside the gadgets, fight scenes, the impeccable style and so much more.  
Here's the full list of bonus features for the Kingsman: The Secret Service DVD and Blu-Ray below. And you do not want to miss the unforgettable Kingsman: The Secret Service quotes!
Bonus Features:
Kingsman: The Secret Service Revealed:
Panel to Screen: The Education Of A 21st Century Super-Spy
Heroes And Rogues
Style All His Own
Tools Of The Trade
Breathtakingly Brutal
Culture Clash: The Comic Book Origins Of The Secret Service
Galleries: Behind-The-Scenes, Sets and Props