One of the most memorable (of many) moments in the 2012 out-of-nowhere hit movie Pitch Perfect was the sing-off in the empty pool. That joy is replicated and amplified in the first clip from Pitch Perfect 2.
As is the case with most sequels, the stakes are higher on every level. 
This time out, the Bellas have been banned (Why? Just watch the Pitch Perfect 2 trailer!). The only way for them to be reinstated is to win the international a capella singing competition.
As was the case in the first film, part of the warm-up for that contest plays out in a riff-off random singing fest that features those that are competing showing their ability to think quickly and sing from a randomly selected group of songs.
The category in this clip – '90s hip hop!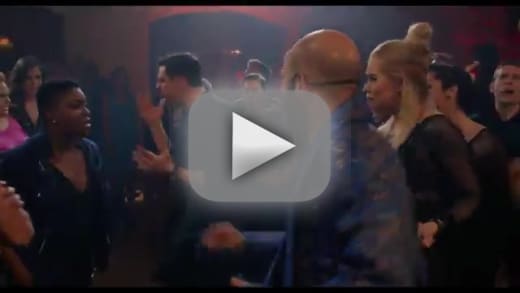 Our fave: Rebel Wilson singing A Tribe Called Quest's Scenario!
Pitch Perfect 2 lands in theaters in a matter of weeks, May 15, and brings back Anna Kendrick, Brittany Snow, Alexis Knapp, Anna Camp and Skylar Astin. Joining the cast this time out in the film that marks Elizabeth Banks' directorial debut is Katey Sagal and Hailee Steinfeld.
Watch Pitch Perfect online and get all sorts of aca-ready for the big-time sequel.