Suicide Squad: Jared Leto Posts First Peek at His Joker Look!
by Joel D Amos at . Updated at . Comments
Our friends at The Hollywood Gossip have a great find -- our first look at Jared Leto and how he'll look as The Joker!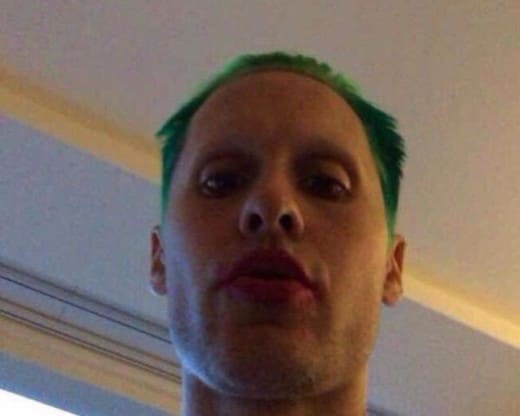 Leto took to his social media pages and posted a rather emerald-looking hue on his dome that will be the look for his turn as the legendary Batman/DC Comics villain in the upcoming David Ayer film, Suicide Squad.
Leto has some huge shoes to fill with the role, from Jack Nicholson's iconic turn in Tim Burton's Batman to Heath Ledger's Oscar-winning take in Christopher Nolan's The Dark Knight. But, if there's anyone who can handle that challenge, it's the recent Oscar winner for Dallas Buyers Club.
Leto will be joined in the superstar cast by Will Smith and Margot Robbie (who recently paired in Focus) and we'll watch anything from Ayer as his Training Day, End of Watch and Fury are among our recent faves.
Watch The Dark Knight online and see how much work Leto has to do beyond greatly looking the part with his green 'do after how much Ledger knocked it out of the park!
Will Suicide Squad become one of our favorite superhero movies? Time will tell, but these are!