After we finally saw Ben Affleck as Batman in that Batman v Superman: Dawn of Justice trailer, most agreed that we kind of liked Affleck as the Dark Knight and in his scene as Bruce Wayne.
With David Ayer shooting his Suicide Squad currently, many have wondered, will Affleck appear in that world that features one of Batman's most iconic foes with Jared Leto as The Joker?
We appear to have the answer as the film shoots in Canada. eTalk has word and has captured, via the photo below, evidence that Affleck will at least be Bruce Wayne in Suicide Squad, and we suspect he'll don the Batsuit as well.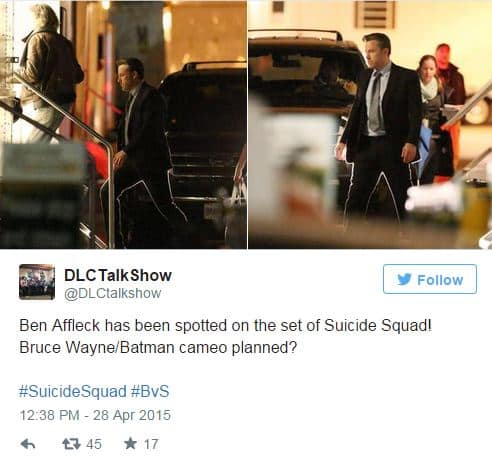 We'll keep you posted as news continues to be made from the Suicide Squad set!
Beyond Leto, Suicide Squad stars Will Smith, Margot Robbie, Joel Kinnaman and Jai Courtney.