American Sniper DVD Review: Chris Kyle's Powerful Story
by Joel D Amos at . Updated at . Comments
American Sniper arrived on screens at the tail end of 2014 and the first part of 2015 and struck a chord with our nation that is rarely seen from a movie coming out of Hollywood. Passionate responses emerged from all corners of the country for the Clint Eastwood-directed story of Chris Kyle, the Navy SEAL Iraq War veteran who had recorded more kills than any sniper in U.S. history.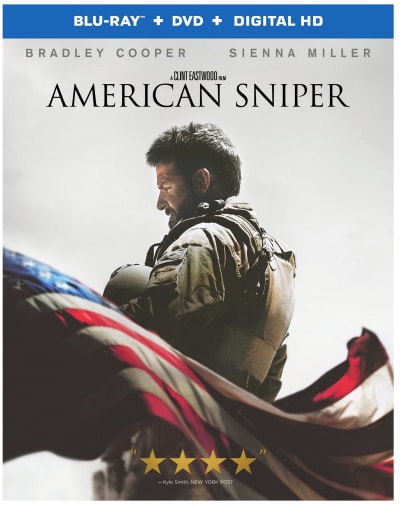 The film went on to become the highest grossing of 2014 and earned six Oscar nominations, including Best Picture and Best Actor for the miracle that was the performance of Bradley Cooper.
American Sniper is out now on DVD, Blu-Ray and digital download, and we have a feeling it is going to be one of those home video releases that breaks sales records across the land because this is the type of film that you want to watch over and over. This is important cinema for a segment of the population that does not always feel that Hollywood gets their likes and dislikes. The Chris Kyle story is about as American of a story as they come, and this home video release is likely to be among the biggest of the year, if not the biggest.
What Cooper did as Kyle was absolutely uncanny. The war hero would be proud with what Cooper achieved by getting inside the man who struggled to keep his comrades safe in battle as much as he grappled with feeling like he was failing them when he was at home with his wife (Sienna Miller) and children. It's a fascinating character portrait by Cooper and further shows why this young man is developing into one of our finest thespians working today.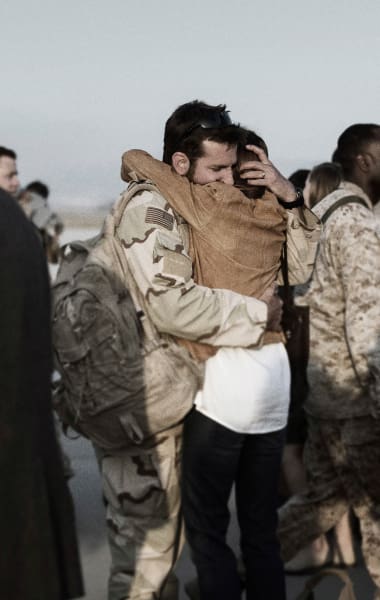 American Sniper has become the biggest hit in director Eastwood's career and it's clear that this is a subject matter that is close to his heart. Kudos to him, as we stated in our theatrical American Sniper review, for balancing his story with illustrating how our brave soldiers also have brave souls at home who struggle with their absence and how our military could not be as successful and astounding as they are without that homefront help. Again, it's easy to see why this film has become so resonant and Movie Fanatic has a feeling that those American Sniper quotes will live on for decades and decades.
When it comes to bonus features on the American Sniper DVD, Blu-Ray and digital download there are only a few, but they are as important and as interesting as the movie itself. We particularly adored One Soldier's Story: The Journey of American Sniper. Eastwood is joined by Cooper and Miller, along with Eastwood's filmmaking team, and they shed light on the challenges that befell them bringing the Chris Kyle story to life. Not only was it important for them to craft a powerful film, but you get the impression that it was of the utmost importance that this serve as a tribute to Kyle and the hundreds of thousands like him who have served this country so nobly.
The bonus feature The Making of American Sniper is fascinating for many reasons, but the one that stands out is witnessing Eastwood and Cooper working together. Perhaps one of the reasons why Eastwood has not only his most successful film in his career, but one of his finest, is because he had a true collaborator in Cooper. The actor was also a producer on the film, and it is an utter joy to watch him and Eastwood come together to craft a film that tells a riveting story with an emotional punch that will stand the test of time.
Watch American Sniper online now and prepare to be moved.