Batkid Begins Trailer: One Kid's Wish Inspires the World!
by Joel D Amos at . Updated at . Comments
You might have heard the story of Batkid, and now thanks to Warner Bros., we get to relive it and go deeper into the tale of Miles and how his one wish set an inspirational fire to the world. The Batkid Begins trailer has landed and just a tip -- you might want to grab a tissue.
Miles was diagnosed with leukemia and all through his treatment he was inspired to fight by his favorite superhero, Batman. So, when it came to his Make-A-Wish request, he wanted to meet the real Batman. What happened next was truly astounding. 
Not only did he get to meet a real-life Batman, but he became Batkid, saved San Francisco on one incredible day and, as one narrator in the trailer says, "saved ourselves."
What is astounding in the above trailer for this documentary that we have to see when it debuts June 26 is how tens of thousands of people turned out in San Francisco to cheer Batkid on in his effort to save the city. Every actor who's played Batman (including the one who plays him in the upcoming Batman v Superman: Dawn of Justice) reached out, and even the President of the United States sent a message.
The poster for Batkid Begins also debuted today!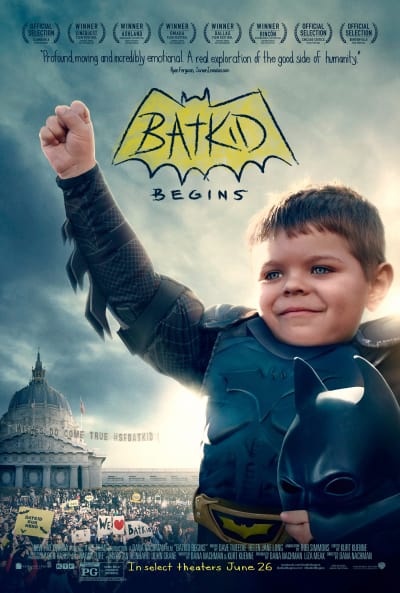 You needed that tissue, didn't you?!