Captain America Civil War: First Look at Sebastian Stan as Bucky Barnes!
by Joel D Amos at . Updated at . Comments
Last week we got word as to that superstar cast of Captain America: Civil War. Among the names that stood out for us was the mention of Sebastian Stan. If you'll recall at the end of Captain America: The Winter Soldier, Anthony Mackie's Falcon was off with Cap trying to find the iconic American hero's best bud all in an effort to bring him back from the dark side of evil.
Filming has started on Captain America: Civil War and we've got our first look at Stan and he's wearing that same baseball hat and jacket he was wearing when he disappeared at the end of the last Cap movie!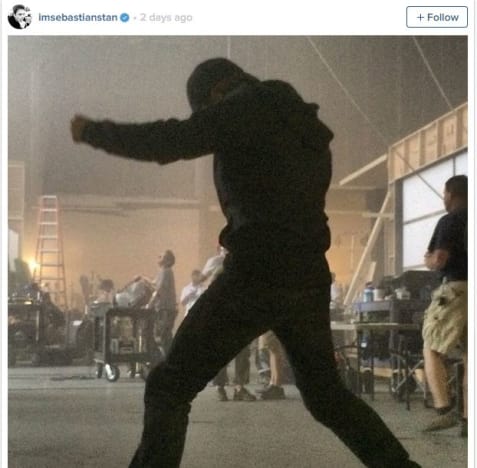 Stan posted the pic on his Instagram account and cemented the fact that at least part of the plot of Captain America: Civil War will still involve Cap's desire to find his old friend. That is fantastic news to Cap fans everywhere who were perhaps a little nervous that with the focus on the split between Robert Downey Jr.'s Iron Man and Chris Evans' Captain America, Bucky Barnes would be forgotten.
Also, if you remember in Avengers: Age of Ultron, Mackie appears in the party scene and lets Cap know that he's still searching for Barnes.
Look for Captain America: Civil War on May 6, 2016, and until then, watch Captain America: The Winter Soldier online.