Captain America: Civil War Starts Production: Cast & Synopsis Revealed!
by Joel D Amos at . Updated at . Comments
Marvel Studios has announced that production has commenced on Captain America: Civil War in Pinewood Studios in Atlanta. The third Captain America movie has also had its full cast announced and we finally get a full synopsis for the film that is set to be released May 6, 2016.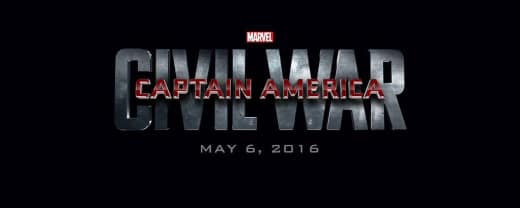 The superhero studio also announced that Captain America: Civil War will also shoot in locations across Germany, Iceland and Puerto Rico.
The Russo brothers are back to direct the sequel to their Captain America: The Winter Soldier and we can now reveal that the cast will be Chris Evans as Cap, Robert Downey Jr. as Tony Stark/Iron Man, Scarlett Johansson as Natasha Romanoff/Black Widow, Sebastian Stan as Bucky Barnes/Winter Soldier, Anthony Mackie as Sam Wilson/Falcon, Jeremy Renner as Clint Barton/Hawkeye, Paul Bettany as The Vision, Don Cheadle as Jim Rhodes/War Machine and Elizabeth Olsen as Wanda Maximoff/Scarlet Witch.
It was also revealed that Ant-Man (Paul Rudd) will make his first appearance as part of The Avengers in Captain America: Civil War, and joining him in making his debut will be Chadwick Boseman as Black Panther!
And one of our favorite actors working today, Daniel Bruhl, will be our villain.
One thing notably absent, and we can see why, is the webbed wonder. Remember, Marvel said Spider-Man will be in Captain America: Civil War?! That announcement will likely come when they actually reveal who has been cast as Spider-Man.
Here's the Captain America: Civil War synopsis:
Captain America: Civil War picks up where Avengers: Age of Ultron left off, as Steve Rogers leads the new team of Avengers in their continued efforts to safeguard humanity. After another international incident involving the Avengers results in collateral damage, political pressure mounts to install a system of accountability and a governing body to determine when to enlist the services of the team. The new status quo fractures the Avengers while they try to protect the world from a new and nefarious villain.
Watch Captain America: The Winter Soldier online to see where Cap left off.