The spook master has returned. Proof of that is seen all over the theatrical trailer for Guillermo del Toro's Crimson Peak. The filmmaker may have taken an action movie detour with Pacific Rim recently (as well as producing films such as Book of Life), but it is clear with the scares that come from this tantalizing teaser that his passion is with horror. 
Del Toro set his story in the 19th century which finds Mia Wasikowska getting swept off her feet by the dashing Tom Hiddleston. His sister (Jessica Chastain) does not approve, but Hiddleston asks her to trust his judgment as they take her home to the family mansion that is known as Crimson Peak.
See, there are secrets to this house and most of them involve setting the fear factor to ten!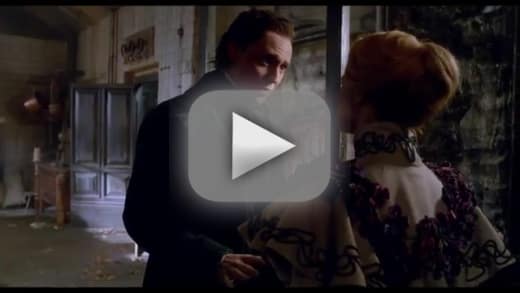 The man who gave us Pan's Labyrinth has crafted a haunted house ghost story that you'll notice has scared the life out of the literary horror master -- as Stephen King is quoted in this trailer!
The Crimson Peak trailer has arrived hot on the heels of the Crimson Peak motion poster and it all looks to add up to one spooky time at the theaters on October 16.
Check out del Toro's most recent film and watch Pacific Rim online.