Fifty Shades of Grey DVD Review: Ramping Up the Sexiness
by Joel D Amos at . Updated at . Comments
Fifty Shades of Grey may have come off as utterly silly for general audiences when it was released in theaters this past Valentine's Day. But, for fans of the EL James blockbuster novel, it was an adequately steamy version of their beloved S&M soaked love story about Christian Grey and Anastasia Steele.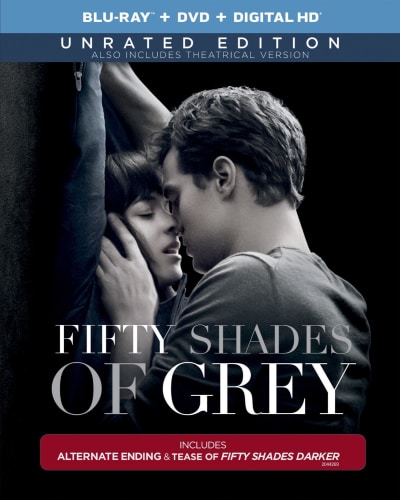 And now that Fifty Shades of Grey is out on DVD, Blu-Ray and digital download, that fan base can own it and share in the love story forever.
The first thing that fans should be thrilled about with the home video release is the inclusion of the unrated edition of the film. Those that felt that filmmakers toned down the sexiness in order to avoid an NC-17 rating will be ready to drool all sorts of fiercely with the unrated version that ramps up the heat between Dakota Johnson's Steele and Jamie Dornan's Grey.
Our feelings on the film have been more than laid out in our theatrical Fifty Shades of Grey review. But, what is fascinating to us reviewing this DVD and Blu-Ray is that this release is not about that general population out there taking in the James page-to-screen effort. This home video release is for the millions of fans and, in that vein, it is a solid release that every single Fifty fanatic should run, and not walk, to get their copy of Fifty Shades of Grey.
The other interesting aspect is that we heard that there were two endings shot for the film. For those who have seen the film, you may have wished for something else to have happened. Well, consider your wish granted with the Fifty Shades of Grey DVD and Blu-Ray -- there is an alternative ending sure to make you smile!
When it comes to bonus features, there are over two hours of bonus content that take you behind the scenes of the hit movie, as well as tease the sequel, Fifty Shades Darker!
What are the highlights that are sure to send fans' temperatures soaring?
The World of Fifty Shades of Grey is a fascinating look at how filmmakers took the world created by James and brought it to life -- and not just in the form of finding the perfect Christian Grey (Dornan) and Anastasia Steele (Johnson), but everything that goes into making those characters become three dimensional.
Christian Grey lives in a fascinating world, to say the least. The billionaire's tastes are not only unique in his playroom and bedroom, but in everything else from his helicopter to his boardroom. The Christian Grey bonus features takes fans inside that world to delve deeper into how it was brought to life.
In that vein, the search for the actor to play Grey was an extensive one that was filled with a few speed bumps along the way (Charlie Hunnam dropping out). Jamie Dornan Profile shows off the actor who got the part and it's easy to see why he was so perfect.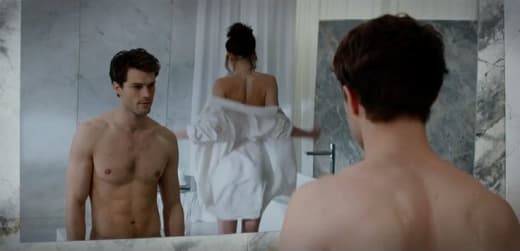 The other half of this whirlwind romance is of course centered by Anastasia Steele. Ana looks at the character and helps explain why she has been so compelling to so many millions of readers. All About Ana delves even further into the James character for those who need to know more. Finally, Dakota Johnson Profile takes a similar look at the actress that the Dornan profile does and showcases why the daughter of Melanie Griffith and Don Johnson was an impeccable choice to play the reserved college student in the big screen version of Fifty Shades of Grey.
Getting to know the woman who created this world is also a nice touch on this Fifty Shades of Grey DVD and Blu-Ray. E.L. James & Fifty Shades features a conversation with James who takes us behind the creation of the novel and follows her to the premiere of the film.
For those who want to delve deeper into the kink factor of Fifty Shades of Grey, check out Fifty Shades: The Pleasure of Pain that puts the spotlight on the BDSM consultant who helped work on the film and how they came up with the props used in the scenes that sent heartbeats racing faster.
Watch Fifty Shades of Grey online right now!