Hot Tub Time Machine 2 has landed on DVD, Blu-Ray and digital download and for fans of the first film, be warned. As our theatrical Hot Tub Time Machine 2 review pointed out, this is a very different film on many levels.
Whereas the first film, starring John Cusack, Rob Corddry, Craig Robinson and Clark Duke, was a nostalgic-and-humor-laden look at life in the '80s from the point of view of a quartet of guys who got a rare chance to relive it, the sequel is a head-into-the-future comedy that has fun playing with our expectations of what lies ahead, as well as simply showing how these guys have exploited their Hot Tub Time Machine to influence their wealth, fame and societal influence.
As you can tell from the Hot Tub Time Machine 2 quotes, the humor is very much the same tone, although it is quite different in its delivery and landscape.
For fans of these guys, we recommend going right to the unrated version of the film that was not seen in theaters. I mean, why not? The cast truly lets themselves go and it allows director Steve Pink to present a version of the film that he wanted released, not just one that he thought would get past censors and into theaters.
Bonus features are aplenty on the Hot Tub Time Machine 2 Blu-Ray and DVD, and as can be the case with most comedy releases, they include potentially even more funny items than the theatrical release itself. That is certainly the case with Hot Tub Time Machine 2.
Among the highlights is the commentary track by Pink and screenwriter Josh Heald. Following up a cult classic like what they had with the film you can see when you watch Hot Tub Time Machine online had to be one tough task. Hearing how they handled the pressure and what they chose to go with dramatically, comedically and even story-wise is truly fascinating. It is a study in the difference between creating a piece of work that you don't know will ever see the light of day (Hot Tub Time Machine) and a sequel that comes with the highest amount of expectations that can be obtained.
The Making of Hot Tub Time Machine 2 is also a joy to see as, even though the film did not do as well at the box office as filmmakers had hoped, we hope that Robinson, Corddry and Duke get to do it again. And the fact that Adam Scott is such a natural addition to the group, our hopes go ever higher. There's also the element of the making-of doc that shows how much of a challenge it has to be to craft a comedy with such professionals as this quartet and the extreme difficulty Pink must have had in the editing room choosing what to keep and what to cut.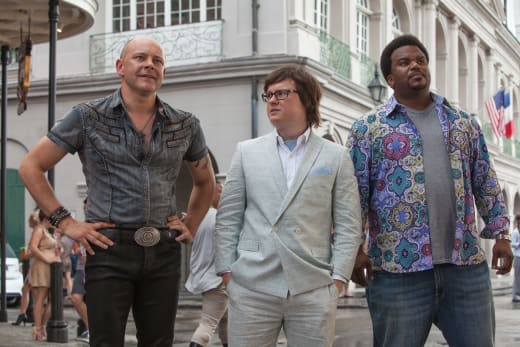 In that vein, the extended scenes and deleted scenes are a delightful addition as there is no such thing as too much comedy material from these gents.
There are also two extended, multi-part featurettes that are envelope-pushing pieces of comedy. The Future As Seen from the Tub includes five parts and one of the joys for us in this film is witnessing how Pink and his stars imagined the future as orchestrated by these time travelers who change it to their liking, thanks to the titular hot tub. The highlight has to be The World of the Future and Choozy Doozy, the absolutely nuts game show hosted by Christian Slater.
The second extended featurette, You're In the Hot Tub Now, is a ten-part trip through the madcap world of Hot Tub Time Machine. Our favorite has to be the Stay video with Nick Webber and special guest Lisa Loeb. The other must-see on this set is Inside the Hot Tub. I mean, you got to check out a bonus featurette with that title!
Watch Hot Tub Time Machine 2 online and prepare for another hilarious dip.