ILM Celebrates 40 Years of Making Movie Magic: Watch Now!
by Joel D Amos at . Updated at . Comments
The photo below from Wired magazine would be enough to send jaws dropping. But the story that accompanies it about the 40th anniversary of iconic special effects house Industrial Light and Magic is equally as astounding.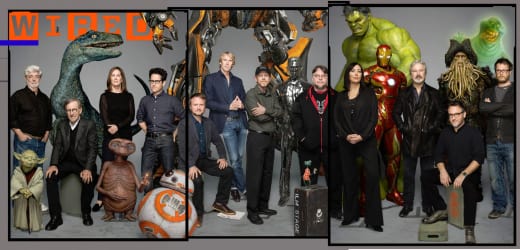 The team at George Lucas' ILM has been responsible for some of the most memorable movie special effects moments of all time, as evidenced by some of the non-human guests on the above photos, from the dinosaurs of Jurassic Park and BB8 of the upcoming Star Wars: The Force Awakens to the Ghostbusters' ghoul, E.T. and Yoda.
And the "who" of the who's who that is on the cover and quoted in the article is equally as stunning. Lucas is joined by Steven Spielberg, Guillermo del Toro, J. J. Abrams, Michael Bay, Ron Howard and more.
Check out the video below of the short history of ILM and prepare to be amazed.
Watch Jurassic Park online and watch Ghostbusters online for just a few of the amazing works of ILM.
And here's to another 40 years of movie magic!