It is, by far, the coolest part of that first Jurassic World trailer that got the buzz going into high gear for the June 12 summer blockbuster-to-be. Chris Pratt is "whispering" to a trio of raptors who should be making him lunch instead of following his commands.
Universal Pictures has released the latest Jurassic World clip and it's a little bit more of that scene. We see why Pratt even has to go into the raptor cage in the first place! It's a tense clip to say the least!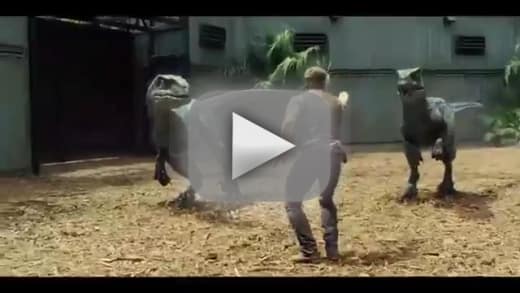 Pratt plays Owen Grady and although we'd see a new Jurassic Park movie regardless of who was involved, after he charmed us in Guardians of the Galaxy this past summer, we cannot wait to see Pratt as the central hero of the Colin Trevorrow-directed, Steven Spielberg-produced summertime surefire hit.
Watch Jurassic Park online and you'll be ready for the next chapter to arrive next month that also stars Vincent D'Onofrio, Omar Sy (who we see in the above clip!), Bryce Dallas Howard and Judy Greer.