After the surprise success of Olympus Has Fallen, we're not surprised that a sequel was green lit. What is surprising is the plot. This time out, the action has switched from Washington, D.C. to London and we are seriously intrigued.
The first London Has Fallen poster has been released to celebrate that fact and it takes the Hollywood disaster treatment to a London icon -- yup, Big Ben!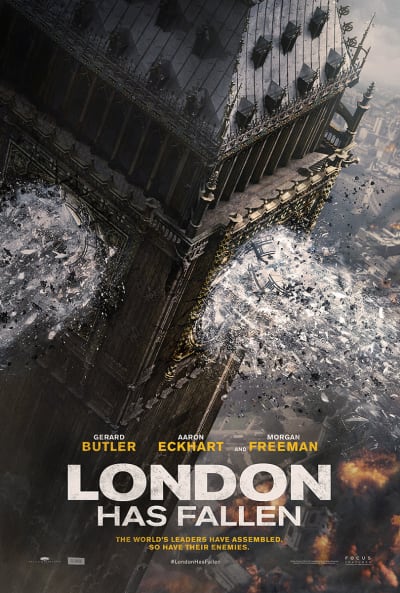 Aaron Eckhart is back as the tough as nails president and Gerard Butler returns as his trusty Secret Service agent who will go to the ends of the Earth to protect him.
The pair are in London for the funeral of the British Prime Minister. His memorial becomes the target for an all out terrorist attack and unfortunately for those baddies, Eckhart and Butler are more than ready to fight back!
London Has Fallen also stars Morgan Freeman, Angela Bassett, Jackie Earle Haley, Melissa Leo, Charlotte Riley (as an MI6 agent!) and Robert Forster.
Look for it in theaters October 2, and until then, watch Olympus Has Fallen online and see how this world got started.