Now You See Me 3 Is Happening: Now You See Me 2 Due in 2016
by Joel D Amos at . Updated at . Comments
Now You See Me 2 is currently filming with Daniel Radcliffe joining the cast of magicians who make off like bandits. What's fascinating is it appears that Lionsgate thinks they have a full-on franchise on their hands as Lionsgate CEO Jon Feltheimer admitted that they're already planning Now You See Me 3.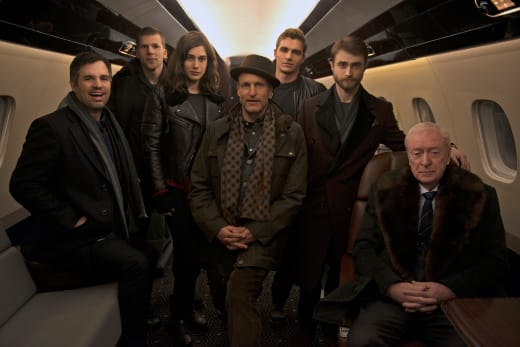 "We've already begun early planning for Now You See Me 3," Feltheimer said in a conference call. He also said he expects Now You See Me 2 to bank more than the first film did in 2013. That's $350 million to you and me!
Hey, that kind of cash would have anyone thinking about the word "franchise." But, after the close of the Twilight Saga and now with The Hunger Games set to take a bow at the end of 2015, you can forgive Lionsgate for looking to their next film series.
In fact, Now You See Me was not only a surprise hit with audiences, but it was a total joy to watch as a critic. The film that starred Jesse Eisenberg, Isla Fisher, Woody Harrelson and Dave Franco as the Four Horsemen had audiences doing the rare thing -- cheering for the "bad guys." In this case, we prefer to think of them in the Robin Hood vein. After all, they did shower cash on their audiences more than once!
With the news of the third Now You See Me movie, hopefully that means that Fisher will be able to return to the role she could not take part in with the second film, due to her pregnancy. Lizzy Caplan stepped in to "take her place" in a different part, with Jon M. Chu directing the sequel that is set to hit theaters June 10, 2016.
Stay tuned on more from Now You See Me 3 and until then, see what all the fuss is about and watch Now You See Me online.