Pitch Perfect 2: Elizabeth Banks on Directorial Debut & Leading "By Example"
by Joel D Amos at . Updated at . Comments
Elizabeth Banks chose wisely when it came to what movie she would make her directorial debut with – Pitch Perfect 2. She starred in Pitch Perfect and served as one of the film's producers. After years as an actress, she knew to go in humble from the earliest of the film's shooting moments.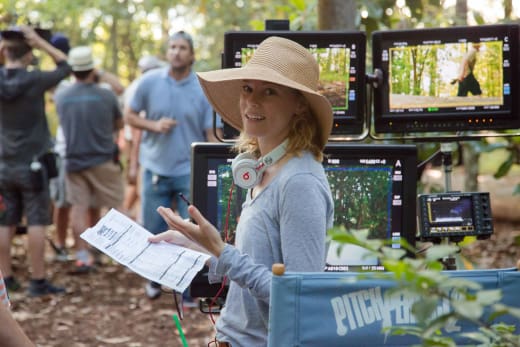 "I went on set with a true attitude of gratitude. I really was grateful for the work of the crew and the cast making the vision I have for the movie come true," Banks told Movie Fanatic.
"Lead by example... I tried to be really serious about the work, but also leave a lot of room for play. We are pretending for a living, it should have a sense of playfulness about it."
One of the keys to the success of a Pitch Perfect movie has to be the song selection. Banks took that part as seriously as any other element of filmmaking. "It's all really deliberate. Music is sort of a universal language -- and not everyone knows Miley Cyrus," Banks said.
"We really wanted to feature as many genres and fun songs, classics, sing-along type songs that we can have in the movie. One of the themes of the film is legacy. The girls are joining a long legacy of singing. Thematically it makes sense to put in the classics and also just speak to the future with our original song."
When it comes to whether there will be a follow-up to Pitch Perfect 2, Banks is firmly set on staying in the now.
"We don't know what the future holds. We're really focused on putting out Pitch Perfect 2. I think what we found for this film was that it was really important to all of us that we find a story that felt very organic and authentic to this group of women and to the world that we created in the first film," Banks said.
"We really build on that story -- the relationships we established in that movie. We want to put this movie out and let the fans embrace it. Then see what the future holds."
Watch Pitch Perfect online to see what all the fuss is about.