Pitch Perfect 2 Sings Its Way to $70 Million: Weekend Box Office Report
by Joel D Amos at . Updated at . Comments
It was a banner weekend for Hollywood at the box office with Pitch Perfect 2 soaring to an incredible $70.3 million and Mad Max: Fury Road arriving in second with an impressive $44.4 million.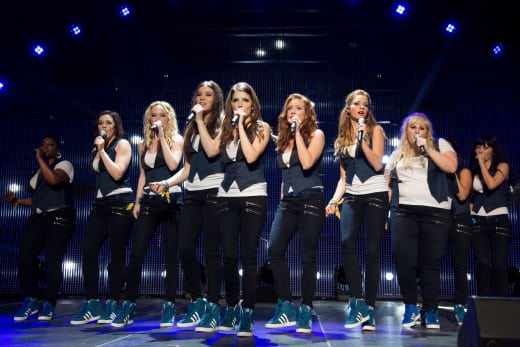 What makes Pitch Perfect 2's debut so astounding is the first Pitch Perfect made $65 million during its entire theatrical run. Kudos to Elizabeth Banks for a stellar directorial debut and it looks like we'll be seeing a third one in the near future.
We suspect that Mad Max: Fury Road will have a little more legs than Pitch Perfect 2, and when its run is complete, it will remind us of the numbers that Kingsman: The Secret Service turned in where it continued to produce high box office figures for over a month.
The third place film also made a lot of bank and that was the former number one, Avengers: Age of Ultron. The Joss Whedon sequel earned another $38.8 million to bring its domestic total to $372 million.
Fourth belonged to the Reese Witherspoon-Sofia Vergara crime comedy Hot Pursuit with its $5.8 million haul. And closing out the top five was Paul Blart: Mall Cop 2 with $3.6 million.
Box Office Top 10:
1. Pitch Perfect 2, $70.3 million
2. Mad Max: Fury Road, $44.4 million
3. Avengers: Age of Ultron, $38.8 million
4. Hot Pursuit, $5.8 million
5. Paul Blart: Mall Cop 2, $3.6 million
6. Furious 7, $3.6 million
7. The Age of Adaline, $3.2 million
8. Home, $2.7 million
9. Ex Machina, $2.1 million
10. Far from the Madding Crowd, $1.3 million