It's official! After rumors (and a few photos) that had us placing Ben Affleck on the Toronto set of Suicide Squad, we now know that Batman will absolutely be in the DC Comics/Warner Bros. upcoming film from David Ayer.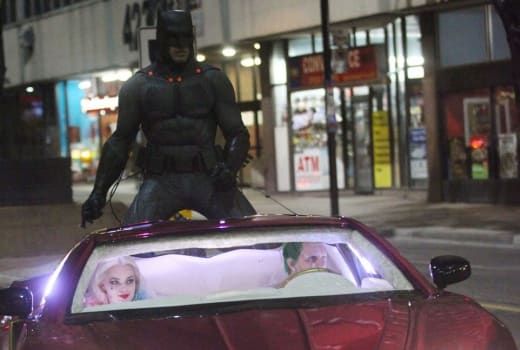 Yup, that's the Dark Knight himself on the back of The Joker's car and that is Jared Leto as The Joker at the wheel with Margot Robbie's Harley Quinn riding shotgun.
So, we knew that Affleck would at least be Bruce Wayne, but with the above photo, our anticipation level for the Suicide Squad movie is off the charts. Some of Batman's greatest foes, all in one movie? Sign. Us. Up!
The all-star cast also includes Will Smith, Viola Davis, Jai Courtney, Joel Kinnaman, Jay Hernandez and Adewale Akinnuoye-Agbaje. Look for it in theaters October 5, 2016.
Look for Affleck first in his suit in Batman v Superman: Dawn of Justice earlier that year in March.