Taken 3 DVD Review: Liam Neeson Opens Up The Whoop Ass!
by Joel D Amos at . Updated at . Comments
We may be biased, but we could watch Liam Neeson as Bryan Mills all day long. Now that Taken 3 is out on DVD, Blu-Ray and digital download, we may do just that. Mills and his "particular set of skills" are put to the test in this third installment of the franchise that started with the surprise hit Taken.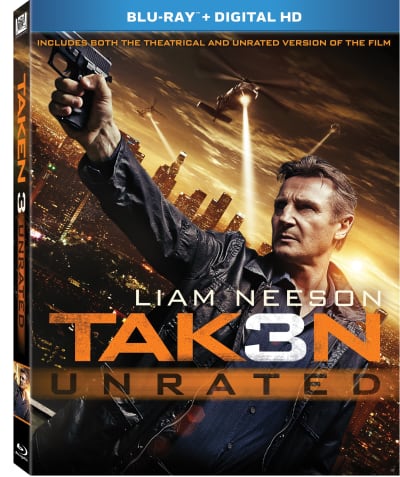 This time out, he's going to need every single one of those skills as it is his own hide on the line as Mills has become one of the most wanted men in Los Angeles. His wife (Famke Janssen) has been murdered and everyone in law enforcement believes that Mills did it. We know, of course, that he hasn't. But, he must go on the run and simultaneously get to the bottom of this mystery to clear his name and keep his daughter (Maggie Grace) safe from suffering the same fate as his wife.
Hot on his trail are not only the real murderers who wouldn't mind him dead as well, but an LA detective who is determined to bring him in. Forest Whitaker is impeccably cast as the cop -- the other end of this cat and mouse mystery. As the film progresses, we find Whitaker discovering that all is not what it seems. And as we hear in many of those Taken 3 quotes, he knows he can be outsmarted and outgunned by Mills, so he has to play his moves carefully.
As our theatrical Taken 3 review stated, it's not the best Taken movie. The first one has that honor. But it is a much better pot boiler than Taken 2. And although it may seem that this should and could be the final Taken for Neeson, we actually hope it is not. Like we stated earlier, there is something about Neeson and this character that we could watch him do what he does over and over, and now that Taken 3 is on home video, we may just do that!
When it comes to Taken 3 bonus features, we have to recommend the unrated cut of the film. That way you can see the cut that director Olivier Megaton meant the world to see!
We also have to salute the documentary short, A Taken Legacy. As a fan of the entire series, it's fascinating to get a look back at how it all started and where we've gone since and, frankly, how the whole thing became the sensation that it is.
One of our favorite scenes in Taken 3 gets explored further in the bonus feature Sam's Bunker AKA The Rabbit Hole. No spoilers here, but let's just say you want to go down this rabbit hole!
Watch Taken 3 online and prepare for Neeson to get back into action!