Terminator Genisys TV Trailer: We're Here to Stop the End of the World
by Joel D Amos at . Updated at . Comments
The latest TV trailer for Terminator: Genisys is here and this teaser is something special. Usually studios don't show off too much fresh footage in a TV trailer, but this latest one for Terminator: Genisys is chock full of it!
First, we get our first look at the JK Simmons (recent Oscar winner for Whiplash) character. We also get a fantastic scene where Emilia Clarke's Sarah Connor and Arnold Schwarzenegger's Terminator are being held in a police station. Knowing Arnie's history with police stations and his Terminator character, we can't wait to see how that scene works out!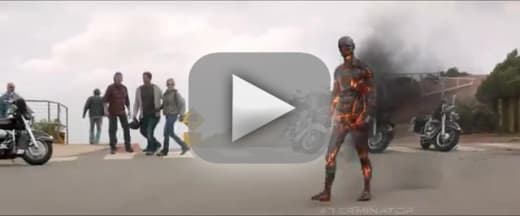 Although he looks nothing like Jason Clarke, we hear his voice in one of the Terminators going after Sarah and Schwarzenegger's Terminator in a scene in the above teaser as well. Clarke is playing John Connor, but we think his "role" as a T-3000 is something of a visual trick. Time will tell!
Terminator: Genisys also stars Matthew Smith, Courtney B. Vance and Jai Courtney as Kyle Reese.
Watch The Terminator online to see how this world got started, and get ready for Terminator: Genisys in theaters July 1.