The Boy Next Door DVD Review: Jennifer Lopez Fights Back!
by Joel D Amos at . Updated at . Comments
There are certain films that we adore because of the fun factor and The Boy Next Door is one of those movies. Sure, as we pointed out in our theatrical The Boy Next Door review, this is not one of star Jennifer Lopez's best. Heck, it's not even close. But, it is so entertaining in its tongue-in-cheek cliché-ness that it is destined to become a cheeky classic. Well, now you can own it as The Boy Next Door is out on DVD, Blu-Ray and DVD.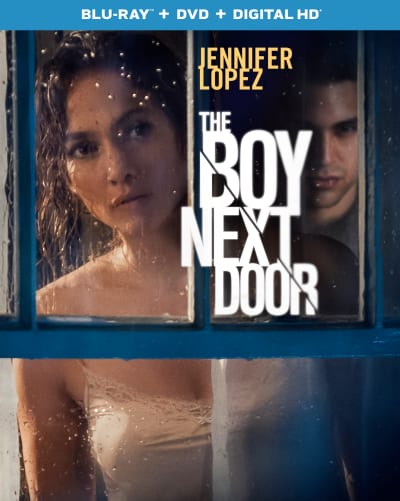 Lopez stars as a woman going through the break-up of her marriage. She has children and is trying to put the pieces of her life back together. When her elderly neighbor's nephew (Ryan Guzman) moves in, sparks fly and in one night of weakness, they hook up and have the most passionate of affairs. Lopez knows it's wrong and tries to end it, only Guzman won't have it and he creeps into all corners of her life… to her utter dismay.
Guzman is perfect as the villain here. He knows that this is an over-the-top thriller and he plays the part of foil impeccably. It is one of those movies where you wonder why no one calls the cops, and yet as Guzman does one crazy thing after another, we the audience are fine that no authorities ever enter the scene -- of course until the stereotypically over the top very end.
As the single mom trying to amend for a mistake in The Boy Next Door, Lopez has an ex-husband to confide in (John Corbett) and a best friend (Kristin Chenoweth), and even though the viewer might want to say "come on" each time she speaks about her situation to her confidants, we're glad they don't see the writing on the wall, because the manic and madcap fun can continue for us!
After seeing the film in theaters, we wondered whether everyone involved (including Rob Cohen) knew that they were making a film that was equally as tongue in cheek as it was over the top. After watching the bonus feature The Making of The Boy Next Door, it is easy to see that everyone involved in this new camp classic appeared to know exactly what they were doing. There are movies that are so bad they're good and The Boy Next Door is one that firmly knows its place. Prepare to have fun. 
Watch The Boy Next Door online right now!