It is not every day you get a piece of news that involves the subject matter, "Top Secret Untitled Lonely Island Movie." Wait, what?! Yup, a The Lonely Island Movie is coming to theaters from Universal and we could not be more excited to see what Andy Samberg and his cohorts Akiva Schaffer and Jorma Taccone do with the opportunity to bring their larger than life musical group to the big screen.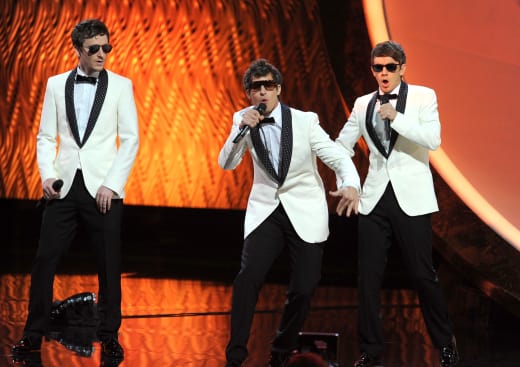 The film will be co-directed by Schaffer and Taccone and will be produced by Judd Apatow (Knocked Up, and the upcoming Trainwreck).
Much of the details about the movie are top secret, after all, that is in the title, but we do know that it will be set in the world of music. And if that isn't ripe for parody, we don't know what is.
The Lonely Island first came on the scene through a series of SNL Digital Shorts and eventually the trio gave us a slew of hits, including D**k in a Box, YOLO, and I'm on a Boat. We even once asked Selena Gomez her favorite The Lonely Island song and her answer was shockingly awesome!
"Not to be hyperbolic, but we are seriously zazzed about this movie," said The Lonely Island in a statement.
"I have begged these fine gentlemen to allow me to produce one of their films since day one," added producer Apatow, "and finally they decided my whining needed to come to an end."