X-Men Apocalypse: James McAvoy Finally Going Bald as Professor X!
by Joel D Amos at . Updated at . Comments
As comic book movie headlines go, it's pretty huge. For X-Men: First Class and X-Men: Days of Future Past, James McAvoy played Charles Xavier, aka Professor X, as a younger and more follicle-endowed gentleman. As we all know, Patrick Stewart iconically played the character bald as can be. Thanks to X-Men: Apocalypse director Bryan Singer, we know that McAvoy's Professor X has finally lost his hair!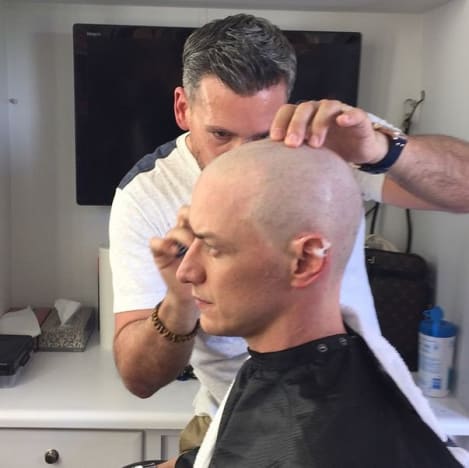 Singer took to his social media account to post a photo of McAvoy getting a noggin shave-down as filming gets going for the follow-up to the successful X-Men: Days of Future Past.
Considering that Oscar Isaac is Apocalypse and that he is the villain that has most given the X-Men fits over the years in the comics, that could cause someone to lose their hair!
X-Men: Apocalypse joins McAvoy's Professor X with Michael Fassbender's Magneto, Jennifer Lawrence's Mystique, Hugh Jackman's Wolverine, Nicholas Hoult's Beast as well as newly cast Olivia Munn as Psylocke, Tye Sherican as Cyclops and Sophia Turner as Jean Grey.
Look for it on May 19, 2016, and until then, watch X-Men: Days of Future Past online!