The concept behind the upcoming action flick Live! is pretty cool, and now it has a star attached: Aaron Eckhart.
Eckhart plays Kyle Penny, a disgraced cop on the hunt to rescue the police commissioner's daughter who has been kidnapped and is hidden somewhere within the city, given only 80 minutes to live.
For reasons unbeknownst to us, Penny's only hope is teaming up with an ambitious reporter who films the wild chase to save a life live, while a deranged killer is hot on Penny's tail.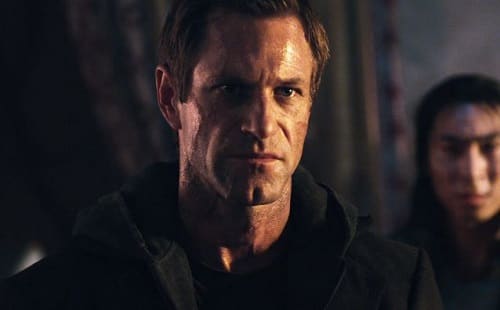 Live! will be filmed in real time, so we can guess the movie will come in just over the 80 minutes of chase time it takes for Penny to find and save (because, duh) the commissioner's daughter. You also have to ponder why a disgraced cop would be tasked with finding saving a life so sacred. The deranged killer must have demanded. Damn those deranged killers.
We're also expecting some kick-ass single-take tracking-shots reminiscent of the spectacular six minute scene that had everyone all aflutter in True Detective Season 1, because otherwise, why film in real time?
Eckhart has starred in other action films such as The Dark Knight, Olympus Has Fallen and Battle Los Angeles. He's currently finishing up production on the Olympus sequel, London Has Fallen right now.
Carissa Pavlica is a staff writer for Movie Fanatic. Follow her on Twitter and on Google+.